U.S. Department of Energy - Energy Efficiency and Renewable Energy
Tribal Energy Program
Geothermal Energy Systems
Geothermal ("Earth-heat") energy comes from the residual heat left over from the Earth's formation and from the radioactive decay of atoms deep inside the Earth. This heat is brought up to the Earth's crust by molten rock (magma) and by conduction through solid rock. There it raises the temperature of the Earth's surface and of groundwater trapped in the fissures and pores of underground rock, forming zones called hydrothermal (hot water) reservoirs.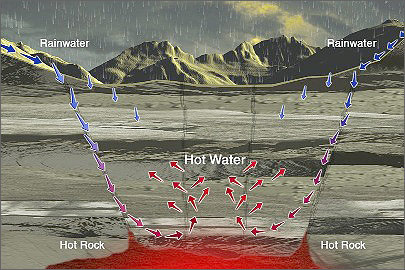 Geothermal energy can currently be harnessed in three different ways:
Electricity production is possible with the best (hottest) hydrothermal resources.

Lower-temperature hydrothermal resources can be used directly for space and water heating.

Geothermal heat pumps (GHPs) can be used for space heating and cooling anywhere in the country.
Read the following for more information:
The following organizations provide information about several geothermal energy technologies: