U.S. Department of Energy - Energy Efficiency and Renewable Energy
Tribal Energy Program
Interconnection Process
Tribal energy managers are encouraged to plan for interconnection and permitting early in the project development process. This includes electric interconnections for all projects connected to the utility and gas line interconnections for projects requiring gas at higher volumes and pressures than the gas distribution system can provide. In addition, you will need to work with various entities to obtain applicable permits. Some of these activities will require more time, effort, and money than you originally estimated and may pose certain barriers you will have to overcome. This section is designed to help you understand the general interconnection and permitting processes and what might be involved.
Simply put, "interconnection" refers to the technical, contractual, rates, and metering issues that must be settled between the system owner and the utility and permitting authorities before the system is connected to the grid. Interconnection requirements vary from state to state and utility to utility. However, the following general process typically applies: You will file an application with the utility, providing basic information about the proposed project and enclosing a nominal payment for processing and review. After a specified period (generally two to three weeks), you will be informed whether a more involved study is required, what it will include, what it will cost, and approximately how long it will take (typically, about six weeks). This study will then describe the utility system upgrades (if any) that are necessary, what they will cost, and when they can be scheduled. It is then up to you to evaluate the cost in relation to your project's total cost and projected savings and decide if your project is still cost-effective.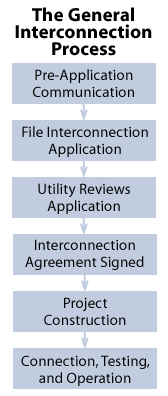 Step-by-Step Overview
The general interconnection process is outlined below in six basic steps:
Pre-Application Communication

The first step is to contact your local utility and ask about interconnection standards and requirements they have in place. You should also be able to establish a single point of contact to discuss any of your interconnection matters.

File Interconnection Application

If the result of the pre-application communication indicates that you can move forward with your project, a formal interconnection application will need to be submitted to the utility.

Utility Reviews Application

Based on the information you provide on the size, type, and location of your potential power generation project, the utility will decide if interconnection is allowed, or if further information or analysis needs to be completed first. Depending on your specific project, the process can be more or less complicated. For example, some states pre-certify power generation systems, so using pre-certified power generation technology for your installation could simplify the installation in those states.

Likewise, the interconnection review and approval process is generally much simpler for systems under a certain capacity, so if your tribe is installing a small generation system, it may be best to keep the capacity of the system below this threshold. For example, renewable energy systems producing less than 10 kilowatts may require nothing more than an inspection by the utility. The threshold varies for each state and sometimes for each utility. See the Database of State Incentives for Renewable Energy (DSIRE) for specific information for your tribe's location.

For systems up to 100 kilowatts, a study is likely to be required, but it should not take more than a few hours for the utility engineer to determine impacts, and interconnection requirements should not be great. Above 100 kilowatts, the impacts on the utility system can be significant, so a more in-depth study, or series of studies, is likely to be needed. A study can take a utility from two to six weeks to perform, and the tribe will probably be required to pay the utility's costs to conduct it. The result may be that protective equipment or other hardware must be installed, and the tribe will be required to pay for that as well.

Interconnection Agreement Signed

Once the interconnection application is approved, the tribe and the utility will complete an interconnection agreement. This agreement can also outline the provisions of any net metering or power purchases resulting from the power generation project.

Project Construction

In this step, the power generation project is built and installed to the specifications outlined by the utility. In addition, the utility completes any new construction or equipment installations, including any metering equipment, necessary to ensure the safe and successful operation of the power generation system.

Connection, Testing, and Operation

Before the power generation system can be operated, it must be tested to verify compliance of the generator and related interconnection equipment with the utility's requirements. Once testing is successfully completed, the power generation system is allowed to operate in parallel with the utility's electric grid. A formal letter of acceptance for interconnection of the power generation system is generally then issued by the utility.
If your tribe uses a contractor to design or build the power generation system, it is often possible to require your power generation contractor to take care of all the necessary interconnection and permitting studies, paperwork, and fees as part of the project contract. Such contracts can simplify the implementation of power generation projects and bring needed expertise and experience in navigating the interconnection and permitting processes. The California Energy Commission's Distributed Energy Resources Guide lists system developers and equipment vendors for many small generation technologies.
Interconnection Standards
The DSIRE database mentioned above is the best place to check for interconnection standards for your state or local utility. If you cannot find interconnection standards there, it may be useful to examine some other interconnection standards before approaching your utility, so you know what to expect. Three states — New York, Texas, and California — were the first to develop standardized interconnection requirements, and links to those can be found on the DSIRE Web site. In addition, the National Association of Regulatory Utility Commissioners has developed Model Interconnection Standards (PDF 614 KB) for states interested in defining their own standardized power generation interconnection requirements, and the Federal Energy Regulatory Commission is also developing standard interconnection agreements. Download Adobe Reader.
Some Typical Equipment Requirements
To interconnect any power generation system to the grid, the utility may specify certain equipment requirements to ensure safe operation of the grid, regardless of how the generation system is functioning. Typical requirements may include the following:
Equipment that prevents power from being fed to the grid when the grid is de-energized (for example, for power line maintenance)

Manual disconnects that are easily accessible to utility personnel

Power quality requirements such as limits on the interconnected system's effects on "flicker" and other types of distortion.
Power generation systems may also be required to automatically shut down in the event of electrical failures. To accomplish this, protective schemes at the grid interface may include these items:
A synchronizing relay
Protection against under- and over-voltage
Protection against under- and over-frequency
Phase and ground over-current relays
Ground over-voltage relays, and more.
Even more restrictive (and expensive) requirements can include an isolation transformer for the system and liability insurance against worst-case scenarios of damage to utility equipment and harm to utility personnel.
In addition, the Institute of Electrical and Electronics Engineers (IEEE) has developed a standard labeled P1547 for interconnection of power generating systems up to 10 megawatts in capacity. The standard defines the technical performance standards and testing requirements that will be necessary for most interconnecting these systems. States are expected to adopt this new standard. If your facility meets this proposed standard, the process should be expedited.
If possible, find out what other facilities in your utility's service area have done or are considering in terms of interconnected generators. Other facility managers may be able to offer you valuable advice based on their own experiences. If your power generation project involves the use of natural gas or propane, don't forget to contact your local gas utility if it is not the same as your electric utility. Your gas utility may have additional or different requirements and procedures for implementing small generation projects.
For more information on technical requirements for interconnection, see the EERE's Industrial Distributed Energy Program Web site. In addition, the Interstate Renewable Energy Council has prepared a detailed guide to connecting small generating systems. See the publication, Connecting to the Grid: A Guide To Distributed Generation Interconnection Issues (PDF 410 KB). Download Adobe Reader.
Potential Interconnection Barriers
The potential barriers to getting a tribal power generating system interconnected to the grid include technical, regulatory, and business practice barriers.
Technical barriers relate primarily to your local utility's electrical interconnection requirements, which are meant to ensure that your generator will not negatively affect the reliability, safety, and power quality of the electric grid system.
Regulatory barriers include issues that arise from or are governed by statutes, policies, tariffs, or regulatory filings by utilities. Specifically, these include the numerous permits and approvals that may be required to move your power generation project to the operational stage. These can be economic as well as regulatory barriers, because time, effort, and money go into overcoming them. Because many permits require fixed fees regardless of the size of the power generation project, the impacts on smaller projects can be greater than those for large projects. Other barriers arise because of utility regulations or policy decisions. Standby charges are assessed because the utility is obligated to serve your load if the power generation is not available and the utility must maintain adequate distribution facilities. Exit fees repay the utility for distribution facilities already built that are "stranded" because your power generation reduces the utility's return on investment. Similarly, regional transmission charges may be assessed for stranded transmission assets.
Business practice barriers involve the contractual and procedural requirements for interconnection, including contract length and complexity, contract terms and conditions, application fees, insurance requirements, and the timeliness of utility responses. power generation projects should be easier to implement in states that have standardized interconnection requirements.
How can you tell if the utility's demands are appropriate for your specific installation? And how do you make sure that the process is handled with a minimum of delays? Here are some tips:
Ask the utility contact for proper application forms, and make sure you understand the technical data they are requesting. You or the contractor will have to provide these data when applying, and you may need to contact equipment vendors or other resources to obtain the data. If your power provider does not have an individual assigned to deal with grid-connection requests, try contacting your public utilities commission, state utility consumer advocate, or state energy office.

Ask the utility to specify how long it will take to process the application and what fees must be submitted with it.

Investigate all potential utility charges that may apply to your system, such as standby charges, exit fees, or regional transmission charges.

Utility commissions in some states have established regulations specifying the interconnection process. Find a contact person at your state's utility commission and ask for any guidelines or rules that apply. Also, ask whom to contact for dispute resolution, if that becomes necessary.
For more information on the potential barriers to interconnecting power generation systems, see Making Connections: Case Studies of Interconnection Barriers and their Impact on Distributed Power Projects (PDF 1.8 MB). Download Adobe Reader.