U.S. Department of Energy - Energy Efficiency and Renewable Energy
Tribal Energy Program
Wind Energy Resources
Thanks to recent advances in digital mapping, meteorology, and graphical information systems (GIS), it is now possible to generate accurate high-resolution wind energy maps for the entire United States. Taking advantage of these technologies, the DOE Tribal Energy Program and the National Renewable Energy Laboratory have compiled maps of wind energy resources for most of the tribal lands in the West, as well as select locations in the East. As additional state maps become available, new tribal resource maps will be generated and posted. Currently available maps are shown below.
Wind resources rated as "excellent" or better are potentially commercially viable sources of wind power, and in some cases even "good" resources can be worthwhile for energy production for local needs. Despite the accuracy of these maps, potential wind energy sites should always be instrumented with anemometers to collect data about the wind energy resource at the specific location being considered and how it varies over the course of a day and over the course of a year.
Learn about DOE's Wind Powering America Anemometer Loan Program, conducted by the U.S. Department of Energy's (DOE's) Wind Powering America (WPA) initiative from 2000 to 2011 to provide tribes with a low-cost, low-risk means of quantifying their wind resource.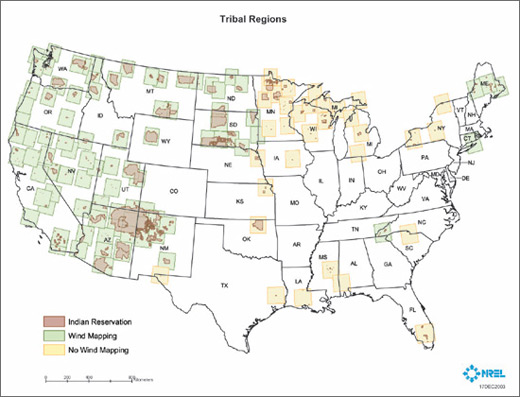 Note: If you cannot access the content of this map due to a disability, please contact the webmaster.
Important note: This list includes only federally recognized tribes that have land. Landless tribes and state-recognized tribes may contact the DOE Tribal Energy Program for more information. Tribes are listed under their federally recognized names, but group names are omitted. In cases where the reservation name is significantly different than the federally recognized tribal name, the reservation name is also listed.
For convenience, tribal lands are organized by the state in which they are located. Tribal lands spanning two or more states are listed under both state names. Tribes may need to view more than one map to see all of their lands, and tribes with large tribal lands (such as the Navajo Nation) may need to view maps in more than one state listing. Maps are not available for tribal lands in all states, and in some cases maps are available for some tribal lands in a state, but not all. The DOE Tribal Energy Program will continue to develop new tribal resource maps as additional information becomes available.
To access wind resource maps of tribal lands, select the appropriate state below: