Concentrating Photovoltaic Systems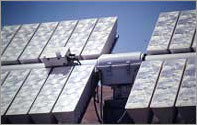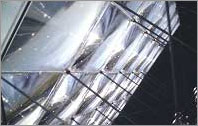 Some photovoltaic (PV) cells are designed to convert a high percentage of sunlight into electricity when they are exposed to concentrated sunlight. These cells are typically mounted in a "concentrator" that uses an inexpensive plastic lens or reflective surfaces to focus sunlight onto a cell at up to 1000 times the normal strength of sunlight, referred to as "1000 suns."
Concentrating PV systems benefit from the cost savings of using less solar cell material per kilowatt, since each solar cell produces much more power than a typical solar cell. However, they also require sophisticated tracking systems to keep them pointed at the sun, and only work well in areas with plentiful direct sunlight. Unlike flat-plate solar modules, concentrating systems won't work well in cloudy climates. Because of the sophistication of the tracking system, concentrating PV systems are usually used in large commercial or industrial settings, although they could provide power to a local community or small town.