Workplace Charging Challenge Partner: 3M
3M's workplace charging goal is to provide a power source to every employee with a plug-in electric vehicle (PEV) working at 3M Center, the company's headquarters in St. Paul, Minnesota. 3M is meeting this goal in a number of ways. Firstly, many of company's employee parking spots have existing 110V power sources that were used for engine block heaters during the cold St. Paul winters in the past. 3M employees are permitted to utilize these power sources (after upgrading) to obtain a Level 1 charge for their PEV during the workday. 3M has installed ten Level 2 charging stations to date and, in response to growing employee demand, 3M plans to install 12 additional Level 2 charging stations in July 2013 in parking areas where there are no existing 110V power sources or outlets for PEV charging.
Two Level 2 charging stations are also available for visitor use at 3M Center.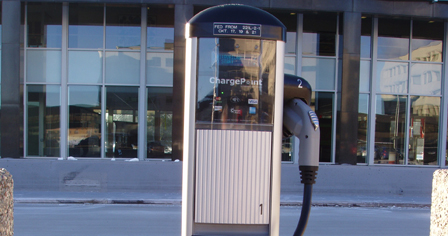 Fast Facts
Joined the Workplace Charging Challenge: January 31, 2013
Headquarters: St. Paul, MN
Charging Locations: St. Paul, MN
Domestic Employees: 35,000