Workplace Charging Challenge Partner: City of Sacramento
In 2012, Sacramento's City Council adopted a resolution to proceed with a contract to implement "Electric Vehicle Charging Stations in Various City Public Parking Garages." The City of Sacramento installed a total of 28 charging stations, some of which are available for use by the City and other area employees. Several of the charging stations are powered by the solar panels on city parking garage rooftops.
In addition to installing charging stations, the City of Sacramento offers employees special lease offers for plug-in electric vehicles (PEVs) through Sacramento Clean Cities. The City of Sacramento is also working to incorporate PEVs into its fleet with the addition of several Chevrolet Volts and Ford Focus Electric sedans.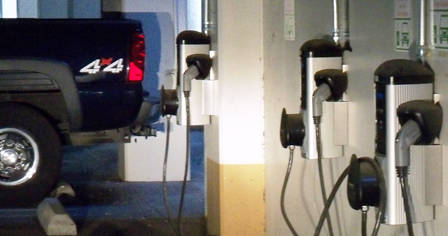 Fast Facts
Joined the Workplace Charging Challenge: February 15, 2013
Headquarters: Sacramento, CA
Charging Locations: Sacramento, CA
Domestic Employees: 3,792
Multimedia
Watch a video about Workplace Charging Partner City of Sacramento. View more videos on the Alternative Fuels and Advanced Vehicles Data Center.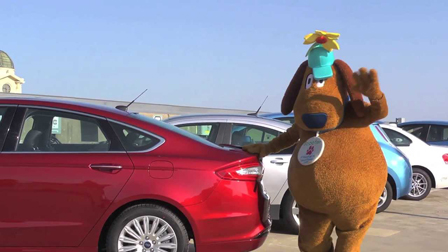 More Information
Workplace Charging News
April 16, 2013
ChargePoint and City of Sacramento Celebrate 100th Electric Vehicle Charging Station Milestone
Sacramento, CA. – ChargePoint and the City of Sacramento today announced that the City has reached a significant milestone with more than 100 electric vehicle charging stations installed in and around the California State Capitol. Many of the 100 installed EV charging stations were made possible by a State and Federal grant funded by the American Recovery and Reinvestment Act through the Transportation Electrification Initiative administered by the Department of Energy and the California Energy Commission. This project has served to accelerate the development and production of electric vehicles to substantially reduce petroleum consumption, reduce greenhouse gas production, and create jobs. There are more than 500 electric vehicles registered in Sacramento including the Nissan LEAF, Chevrolet Volt, Prius Plug-in and Ford Focus Electric. Public electric vehicle charging infrastructure has made it possible for Sacramento to migrate to a cleaner form of transportation.
"Today's milestone is emblematic of the city of Sacramento and the region's commitment to encouraging our residents and businesses to be eco-friendly," said Mayor Kevin Johnson. "Being green both helps our environment by cutting carbon emissions and creating economic development opportunities that often translate into more jobs and more revenue to our region."
To support the growing number of EV drivers, many public parking garages, businesses and retail locations have EV charging stations in the Sacramento-area. Organizations and businesses including Walgreens locations throughout the area, the Roseville Galleria, the Old Sacramento School House, Capitol Mall shopping center, Renaissance Building, Esquire Plaza, Capitol Garage, Ace Parking, city-owned garages throughout the downtown Sacramento have all joined the world's largest EV charging network.