Workplace Charging Challenge Partner: Dominion Resources, Inc.
Dominion is actively participating in the deployment of alternative vehicle technologies to help lower greenhouse gas emissions and reduce our nation's dependence on foreign oil. Dominion Virginia Power (DVP), Dominion Resources, Inc.'s regulated electric subsidiary, currently owns several plug-in electric vehicles (PEVs), including Chevy Volts, a Nissan LEAF, and Toyota Prius plug-in conversions. DVP is also offering its customers two experimental time-of-use rates designed to encourage off-peak charging of PEVs.
Dominion's employee workplace charging pilot program furthers its commitment to alternative fuels. The pilot currently consists of two lockable Level 1 charging stations, with expansion capabilities for six to eight more charging stations.
Fast Facts
Joined the Workplace Charging Challenge: June 6, 2013
Headquarters: Richmond, VA
Charging Locations: Richmond, VA
Domestic Employees: 15,500
Multimedia
Watch a video by Workplace Charging Partner Dominion Resources, Inc. View more videos on the Alternative Fuels and Advanced Vehicles Data Center.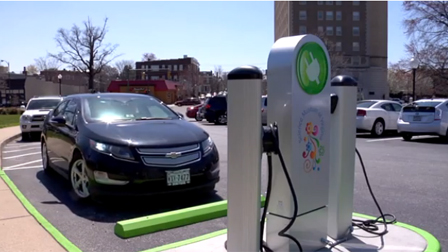 More Information
Workplace Charging News
July 2, 2013
Dominion Joins DOE Effort To Promote Workplace Charging For Electric Vehicles
Company installs electric vehicle charging stations at its downtown Richmond offices
Is one of 48 companies in DOE program to provide employees with EV charging options
Employees pay monthly fee to cover cost of electricity, defray installation costs
Richmond, VA. – Dominion is one of the first 48 companies in the nation to join the U.S. Department of Energy's Workplace Charging Challenge, which is designed to help increase the number of U.S. employers offering workplace charging for electric vehicles.
Earlier this year, Dominion installed two separately metered electric vehicle charging stations as a pilot program at its Tredegar campus in downtown Richmond. The stations have two lockable power outlets used by employees who pay a monthly fee that covers the cost of electricity and gradually reimburses the company for the installation. The pilot also will test the meter's capability to control charging during peak demand hours remotely.