Workplace Charging Challenge Partner: Fraunhofer Center for Sustainable Energy Systems
The Fraunhofer Center for Sustainable Energy Systems (CSE) is a not-for-profit applied R&D laboratory dedicated to the commercialization of technologies for a sustainable energy future. CSE is a division of Fraunhofer USA, a not-for-profit subsidiary of the Fraunhofer Society, a world leading applied R&D organization. CSE supports its employees' efforts to advance the adoption of clean energy both at work and at home. By installing electric vehicle charging stations at their Albuquerque solar test laboratory, employees who now drive longer distances to work can consider the use of a plug-in electric vehicle (PEVs) for commuting purposes.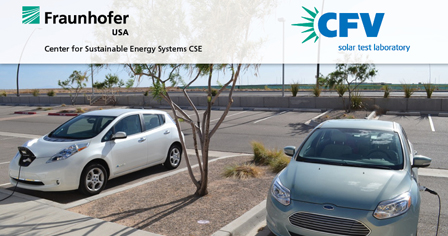 Fast Facts
Joined the Workplace Charging Challenge: May 31, 2013
Headquarters: Boston, MA
Charging Locations: Albuquerque, NM
Domestic Employees: 60
More Information
Workplace Charging News
June 12, 2013
CSE Takes DOE's Workplace Charging Challenge
In January, the US Department of Energy launched the EV Everywhere Workplace Charging Challenge, an initiative that encourages companies across the United States to offer charging opportunities to employees who own an electric vehicle. DOE hopes this initiative will spur a tenfold increase in the number of charging stations available at American workplaces over the next five years, thereby building the infrastructure needed to support widespread adoption of plug-in electric vehicles (PEVs).
This initiative also ties into President Obama's EV Everywhere Grand Challenge. Launched in 2012, this "Clean Energy Grand Challenge" aims to make the U.S. the first nation in the world to produce PEVs that can compete with their gasoline-powered counterparts on price and convenience, all in the space of the next decade.