Workplace Charging Challenge Partner: Hertz
Hertz has embraced plug-in electric vehicles (PEVs) as an integral part of both employee commutes and business rentals. Hertz currently offers employee PEV charging at its global headquarters in New Jersey, with plans to install charging stations at its offices in Oklahoma City.
As a rental company, Hertz provides its stakeholders with firsthand PEV driving experience, which will help break down consumer barriers to PEV uptake. Hertz offers PEV rentals at major urban locations across the U.S., Europe and China as a means to attract the next wave of PEV owners and on demand users.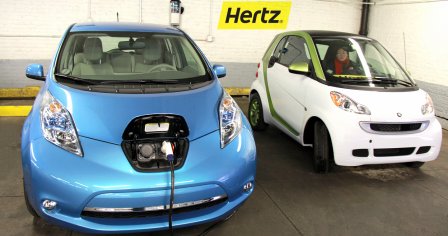 Fast Facts
Joined the Workplace Charging Challenge: February 26, 2013
Headquarters: Park Ridge, NJ
Charging Locations: Park Ridge, NJ; San Francisco, CA; Paramus, NJ; Los Angeles, CA; Washington DC
Domestic Employees: 25,000
More Information
Workplace Charging News
February 8, 2013
Hertz First to Trial Wireless EV Recharging
Hertz is First Car Rental Company to Pilot Plugless Power for EV Recharging
Park Ridge, NJ. – The Hertz Corporation (NYSE:HTZ) and Hertz Global EV are implementing the first wireless charging system for electric vehicles (EVs) in the car rental industry. Hertz has the most diverse fleet of EVs for both rental and carshare.
"Hertz is committed to its Global EV program, introducing electric vehicles into our rental fleet on three continents – North America, Asia and Europe," commented Mark P. Frissora, Hertz Chairman and Chief Executive Officer. "We're excited to participate in Plugless Power's pilot program so that we can be on the ground floor of this new technology; learning key findings about EV wireless charging. As we move forward our goal is to have a variety of charging options for EV customer use, aligned with the charging equipment installed by EV manufacturers."