Workplace Charging Challenge Partner: National Grid
As a leading international electricity and gas company, National Grid is committed to creating new, sustainable energy solutions for the future and modernizing the region's electricity system. National Grid strives to provide plug-in electric vehicle (PEV) drivers with a new and premium charging experience throughout Massachusetts, New York and Rhode Island. Currently, National Grid has installed 33 charging stations in Massachusetts, and is in the process of deploying 67 charging stations in Upstate New York, and 50 charging stations in Rhode Island.
National Grid promotes the use of PEVs among its employees by providing preferred parking spots with charging stations for PEVs at various office locations. Additionally, National Grid encourages employees to find environmentally-friendly ways to commute to work as such as biking, carpool, and public transportation.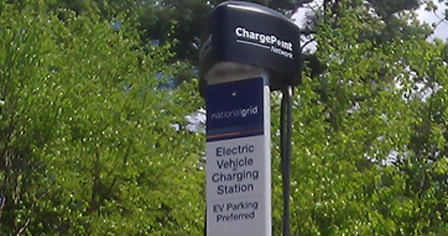 Fast Facts
Joined the Workplace Charging Challenge: February 27, 2013
Headquarters: Waltham, MA
Charging Locations: Waltham, MA; Worcester, MA; Providence, RI
Domestic Employees: 16,600
More Information
Workplace Charging News
May 22, 2013
ChargePoint, National Grid, and NYSERDA Launch Electric Vehicle Charging Station Project in Upstate New York
Homewood Suites in Colonie is One of First Upstate Sites Funded Through $1 Million Public/Private Partnership
Albany, NY. – ChargePoint and National Grid today unveiled the first of what will be many electric vehicle charging stations funded through a $1 million award from the New York State Energy Research and Development Authority (NYSERDA).
TheChargePoint EV charging station, which can charge two cars at once, has been installed at the Homewood Suites on Wolf Road in Colonie. It was unveiled today at a ceremony featuring Pat Romano, president and CEO, ChargePoint; Bill Flaherty, regional executive, National Grid; Francis J. Murray Jr., president and CEO, NYSERDA; and Brian Straughter, vice president, Turf Hotels.