The installation of 10 charging stations at the Biogen Idec Research Triangle Park campus supplements the company's goal of reducing its environmental impact by encouraging employees to adopt an environmentally-friendly form of transportation. Biogen Idec recognizes that the ability to charge a plug-in electric vehicle (PEV) at work is a critical factor in an individual's decision to purchase a PEV.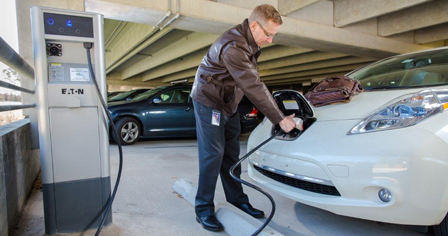 Fast Facts
Joined the Workplace Charging Challenge: February 19, 2013
Headquarters: Weston, MA
Charging Locations: Research Triangle Park, NC
Domestic Employees: 4,500
More Information
Workplace Charging News
February 2, 2012
Biogen Idec Installs Electric Vehicle Charging Stations in RTP
Research Triangle Park, NC. – On February 7, at 10:00 AM, Biogen Idec will hold a ribbon-cutting ceremony for ten new electric vehicle charging stations at its campus in Research Triangle Park, North Carolina. Machelle Sanders, Vice President, Manufacturing and General Manager and Kathy Boyer of Triangle J Council of Governments will speak at the event.
Biogen Idec purchased the charging stations with support from the Carolina Blue Skies Initiative, a project led by Triangle J Council of Governments (TJCOG), with $12 million in American Recovery and Reinvestment Act (ARRA) funding from the U.S. Department of Energy.