An important objective of Bloomberg LP's sustainability efforts is to reduce carbon emissions from employees' commutes. The majority of Bloomberg LP's offices are located in dense urban areas, and the company encourages the use of public transportation and biking whenever possible. Since these options are not possible for a number of the employees at Bloomberg's Skillman, NJ location, the company offers priority parking for employees who carpool and provides free workplace charging for employees who drive plug-in electric vehicles (PEVs). Bloomberg currently has two charging stations available and has upgraded the facility's electrical service to accommodate additional charging stations when employee demand increases.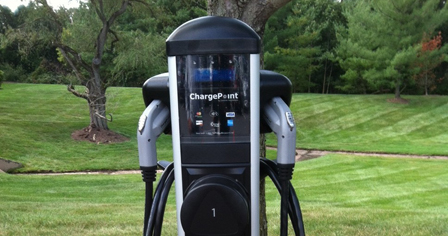 Fast Facts
Joined the Workplace Charging Challenge: March 4, 2013
Headquarters: New York, NY
Charging Locations: Skillman, NJ
Domestic Employees: 10,262
More Information
Workplace Charging News
April 11, 2013
Bloomberg Installs EV Charging Stations and Joins DOE's Charging Challenge
Bloomberg recently announced that we installed electric car charging stations at our Skillman campus, just one of the ways we are trying to make it easier for employees to reduce their environmental impact. The electric car charging stations are meant to encourage employees to switch to alternative fueled vehicles.
Additionally, to show our continued support Bloomberg LP has joined the Energy Department's Workplace Charging Challenge, which aims to expand the availability of workplace charging for American workers – increasing the convenience of plug-in electric vehicles (PEVs) and providing drivers with more options.