Cisco supports the use of plug-in electric vehicles (PEVs) to reduce the carbon footprint of its operations and reduce its employees' commuting costs. Cisco has installed charging stations at a number of its campuses to encourage employees to purchase PEVs and use them for commuting. So far Cisco has installed 25 Level 2 charging stations with plans to double this number by mid-2014.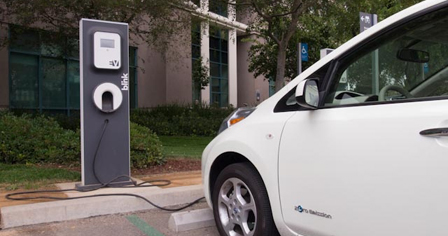 Fast Facts
Joined the Workplace Charging Challenge: March 13, 2013
Headquarters: San Jose, CA
Charging Locations: San Jose, CA; Research Triangle Park, NC; Lawrenceville, GA; Boxborough, MA
Domestic Employees: 42,500
More Information
Workplace Charging News
May 1, 2013
Taking Carbon Out of Commuting
Cisco joined the challenge as we were already working to expand our existing electric vehicle charging capabilities in both our domestic and global locations. We agree with the principles of the program to increase consumer access to plug-in vehicle (PEV) charging opportunities and potentially double the all-electric daily commuting distance for a PEV driver. By providing workplace charging, Cisco enables employees to choose a PEV, for sustainability or operating cost reasons, by effectively extending their range and flexibility.
Our current electric vehicle charging station portfolio includes in excess of 50 Level 2 stations located in 7 of our campuses in 3 countries. We are evaluating or have projects underway to double the number of stations in the next 12 months and increase the locations where we offer charging to employees and guests. Our installations use a variety of equipment and charging network service providers who deliver not only the charging station hardware, but also software services for users to remotely check station availability, monitor the status of the vehicle's charging, and receive notifications.