U.S. Department of Energy - Energy Efficiency and Renewable Energy
Vehicle Technologies Office
Workplace Charging Challenge Partner: Dell Inc.
Dell is committed to putting its technology and expertise to work where it can do the most good for people and planet. As part of that commitment, Dell seeks to minimize its environmental impact and help its team members do the same. Dell installed its first workplace charging systems in 2009 at its Round Rock, Texas headquarters campus.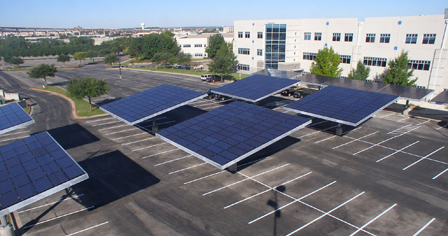 Fast Facts
Joined the Workplace Charging Challenge: March 7, 2013
Headquarters: Round Rock, TX
Charging Locations: Round Rock, TX; Santa Clara, CA
Domestic Employees: 40,000
More Information
Workplace Charging News
April 18, 2013
Dell Opens Eco-Learning Center at Headquarters Campus to Celebrate Earth Day
Round Rock, TX.
Facility will serve Dell team members, promote sustainable gardening and teach healthy eating
Dell uses tools on Causes.com to ask people to join company in taking action for the planet; campaign could plant up to 30,000 trees with The Conservation Fund
Dell today announced it is piloting a team member garden and sustainable living facility on its global headquarters campus. The Dell Eco-Learning Center, launched in conjunction with Earth Day 2013, will highlight sustainable landscaping and food cultivation, and serve as a gathering place for team member fitness activities and seminars on healthy eating.