U.S. Department of Energy - Energy Efficiency and Renewable Energy
Vehicle Technologies Office
Workplace Charging Challenge Partner: Facebook
Facebook employees are early adopters and the company now has a significant number of plug-in electric vehicles (PEVs) on campus to respond to employee demand. As part of Facebook's aggressive Transportation Demand Management (TDM) program, the company has committed to supplying free PEV charging to its Menlo Park employees. Currently, the campus has 1 DC Fast Charger and 25 Level 2 charging stations, with plans to install 12 more in 2013. Facebook has also made 21 Level 1 charging stations available to its employees. As the number of PEVs increase on campus, Facebook will continue to increase its workplace charging availability.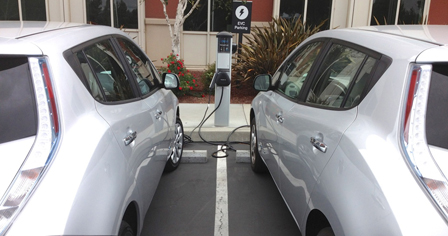 Fast Facts
Joined the Workplace Charging Challenge: March 4, 2013
Headquarters: Menlo Park, CA
Charging Locations: Menlo Park, CA
Domestic Employees: 4,500
More Information
Workplace Charging News
March 7, 2013
Coke, Facebook, 14 Others Pledge Workplace Charging
Facebook is committed to providing electric vehicle charging for employees, and recently joined 15 other companies in the Department of Energy's Workplace Charging Challenge. Our Menlo Park campus currently offers employees all available options, including DC fast charging, Level 2 charging, and Level 1 (trickle) charging.