U.S. Department of Energy - Energy Efficiency and Renewable Energy
Vehicle Technologies Office
Workplace Charging Challenge Partner: GM
GM has installed 269 workplace charging stations (including 74 powered by solar PV) for employees to use at 15 GM U.S. campuses, as well as an additional 400 "private" charging stations for executives and fleet development efforts. The majority of GM's workplace charge spots are located at 5 major sites in southeast Michigan including Detroit (33), Warren (113), Milford (28), Hamtramck (10), and Pontiac (32). There are 26 workplace charging stations at 6 GM sites in California, including Torrance (17), and there are 3 charging stations in Ardsley, NY. There are also 24 charging stations at 3 additional GM Assembly plants, including Bowling Green, KY, Toledo, OH, and White Marsh, MD.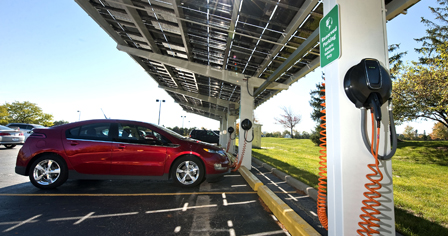 Fast Facts
Joined the Workplace Charging Challenge: January 31, 2013
Headquarters: Detroit, MI
Charging Locations: Detroit, MI; Warren, MI; Milford, MI; Hamtramck, MI; Pontiac, MI; Torrance, CA; Palo Alto, CA; Thousand Oaks, CA; N. Hollywood, CA; Glendale, CA; Santa Fe Springs, CA; Ardsley, NY ; Bowling Green, KY; Toledo, OH; White Marsh/Baltimore, MD
Domestic Employees: 80,000
More Information
Workplace Charging News
January 31, 2013
General Motors Pledges to Promote Electric Vehicle Charging
Washington, DC. – General Motors, in collaboration with the U.S. Department of Energy, is joining 12 other companies as founding Partners of the DOE's Workplace Charging Challenge. The goal is to increase the number of employers with workplace charging tenfold within five years.
Successfully meeting the challenge will help strengthen the nation's expanding electric-vehicle infrastructure and increase consumer exposure to plug-in electric vehicles. "Since the introduction of the Chevrolet Volt, we have made a commitment to lead by example on workplace charging and to engage in encouraging other companies to help provide the infrastructure supporting the electric vehicle market," said Mike Robinson, GM vice president, Sustainability and Global Regulatory Affairs. "With 239 workplace charging spots for the use of GM employees to charge their personal plug-in vehicles, we are primed to meet this challenge."