To reward employees who use alternative transportation, lynda.com offers on-site plug-in electric vehicle (PEV) charging to employees at no cost. The company's "Juice Bar" has two 220-volt and four 110-volt outlets that charge both employee cars and the company's fleet of small PEVs. The PEV charging stations are part of the company's larger commuting program designed to alleviate the impact from employee commutes, which average 40 miles round-trip per day. From May 2012 to April 2013, the commuting program has reduced carbon dioxide emissions by an estimated 82,000 pounds (230 pounds per employee).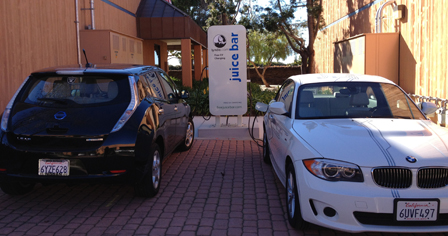 Fast Facts
Joined the Workplace Charging Challenge: March 11, 2013
Headquarters: Carpinteria, CA
Charging Locations: Carpinteria, CA
Domestic Employees: 350
Multimedia
Watch a video by Workplace Charging Partner lynda.com. View more videos on the Alternative Fuels and Advanced Vehicles Data Center.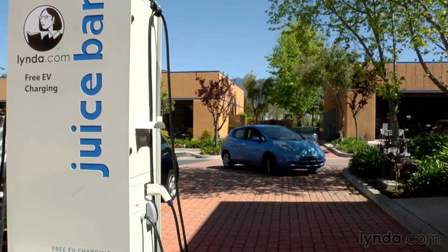 More Information
Workplace Charging News
May 6, 2013
lynda.com Joins U.S. Department of Energy Workplace Charging Challenge
Carpinteria, CA. – lynda.com, an online learning company, announced today that it has become a Partner in the Department of Energy's Workplace Charging Challenge, which aims to increase the number of American employers offering workplace charging for plug-in electric vehicles (PEVs) by tenfold in the next five years. The goal of the project is to encourage sustainability efforts among businesses, and to fill a gap in America's PEV charging infrastructure, increasing consumer exposure and access to PEV charging opportunities.
"lynda.com is committed to improving its sustainability and setting an example in the community," said Jacqueline Burge, senior director of facilities at lynda.com. "As a producer of online training videos, our greatest opportunity to reduce our environmental impact is in the daily activities of our employees. We are pleased to provide electric vehicle charging as an additional benefit to them."
lynda.com has joined several major companies in the Workplace Charging Challenge. Current Partners include 3M, Bloomberg LP, Chrysler Group, the City of Sacramento, The Coca-Cola Company, Dell, Eli Lilly and Company, Facebook, Ford, GE, GM, Google, The Hertz Corporation, Nissan, NRG Energy, OSRAM SYLVANIA, Raytheon Company, San Diego Gas & Electric, Siemens, Southern California Edison, Tesla and Verizon.