U.S. Department of Energy - Energy Efficiency and Renewable Energy
Vehicle Technologies Office
Workplace Charging Challenge Partner: MetLife, Inc.
MetLife embraces its role as a responsible corporate citizen through implementing energy management policies, investing in renewable energy projects, and embedding environmental sustainability throughout its global enterprise. In support of this initiative and to provide alternative commuting options for its associates, MetLife completed installation of 30 EVSE at 14 of the company's U.S. corporate offices in 2013.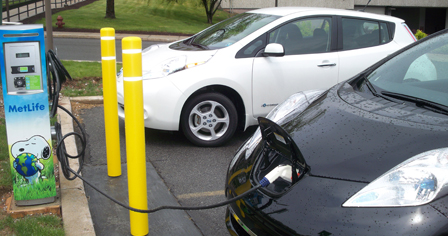 Fast Facts
Joined the Workplace Charging Challenge: May 13, 2013
Headquarters: New York, NY
Charging Locations: Aurora, IL; Bloomfield, CT; Bridgewater, NJ; Dayton, OH; Freeport, IL; Johnstown, PA; Morristown, NJ; Oriskany, NY; Scranton, PA; St. Louis, MO; Tampa, FL; Troy, NY; Tulsa, OK; Warwick, RI
Domestic Employees: 30,887
More Information
Workplace Charging News
July 29, 2013
MetLife Unveils Innovative Electric Car Charging Program for Its Employees at 14 U.S. Campuses
Company Joins Federal Effort to Increase Use of Electric Cars Helping to Provide a More Sustainable and Eco-Friendly Workplace
New York, NY. – MetLife, Inc. (NYSE: MET), an official partner of the U.S. Department of Energy's Workplace Charging Challenge, has installed innovative electric car charging stations at company offices for employees to power up their plug-in electric vehicles (PEV) during the workday.
According to the Electric Drive Transportation Association (EDTA)*, through June of this year cumulative U.S. plug-in vehicle sales have more than tripled to 110,000 cars versus just a year ago. Understanding the need for PEVs and the importance of a sustainable future, MetLife is firmly committed to the national effort to promote alternative transportation. With 32 charging stations, also known as Electric Vehicle Supply Equipment (EVSE), at 14 U.S. facilities across 10 states, MetLife currently has the most wide-spread workplace charging program of any non-PEV industry company currently participating in the Workplace Charging Challenge.**