Nissan offers plug-in electric vehicle (PEV) charging to its employees at its headquarters, regional offices, and vehicle assembly plants, with a significant number of the charging units running off of solar power. Nissan has worked with more than 130 major corporations and universities throughout the United States to encourage the installation of PEV chargers on their campuses. Nissan has also collected best practices from several companies and will share this information with other workplaces who are interested in increasing PEV charging infrastructure.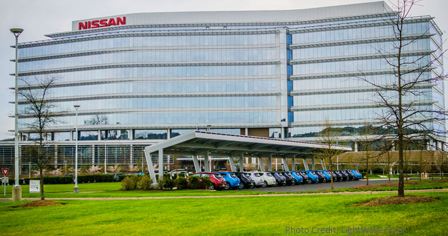 Fast Facts
Joined the Workplace Charging Challenge: January 31, 2013
Headquarters: Franklin, TN
Charging Locations: Franklin, TN; Smyrna, TN; Farmington Hills, MI; San Diego, CA; Silicon Valley, CA; Irvine, CA
Domestic Employees: 19,400
Multimedia
Watch videos by Workplace Charging Partner Nissan. View more videos on the Alternative Fuels and Advanced Vehicles Data Center.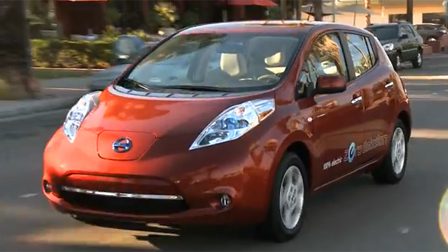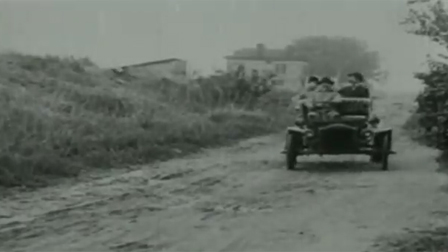 More Information
Workplace Charging News
January 31, 2013
Nissan to Triple Electric Vehicle Fast-Chargers; Partners with NRG Energy to Build First Fast-Charge Network in Washington D.C. Area
Leader in electric vehicles to add 500 quick-charging stations across U.S. in 18 months
Nissan supplying 40 fast chargers to NRG's eVgo network in greater Washington D.C.
Washington, DC. – At the Washington Auto Show today, Nissan outlined its strategy for tripling the current electric vehicle quick-charging infrastructure in the United States with the addition of at least 500 quick-charging stations in the next 18 months, including the greater Washington D.C. area's first fast-charge network.
Nissan and its charging infrastructure partners estimate that about 160 fast chargers are currently available for public use across the United States, and no fast chargers are available for public use in Washington D.C. Most electric vehicle (EV) drivers now rely on home charging, and having additional charging options can significantly increase their rate of EV driving.
"We envision a quick-charging network that links communities and neighborhoods where people live, work, shop and socialize," said Brendan Jones, Nissan's director of electric vehicle marketing and sales strategy. "Having a robust charging infrastructure helps build range confidence, which boosts interest in and use of electric vehicles. By improving the charging infrastructure, Nissan furthers its commitment to bringing electric vehicles to markets throughout the United States."
Nissan's strategy is focused on a three-prong approach to increase the number of available fast chargers though its dealer network, workplace campus charging and opportunities within local neighborhoods that help interconnect communities where drivers spend the bulk of their time and do the majority of their driving. Nissan is working with its dealers, local municipalities and infrastructure partners that include NRG Energy and its eVgo® Network to increase the current number of public charging options.