U.S. Department of Energy - Energy Efficiency and Renewable Energy
Vehicle Technologies Office
Workplace Charging Challenge Partner: OSRAM SYLVANIA
OSRAM SYLVANIA has a commitment to social and environmental sustainability worldwide. As a leader in innovative solutions, the company is dedicated to products and processes that contribute to solving global sustainability challenges, address economic needs, and protect the environment for today and for the future. One of OSRAM SYLVANIA's first charging station installations was a two-outlet charging post at its headquarters to meet employee needs. The company is now in the process of reviewing the needs of its other facilities throughout the U.S.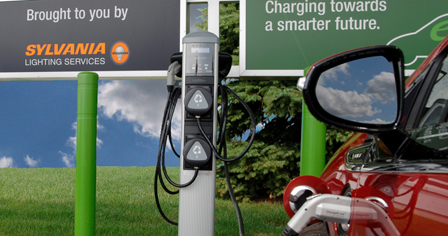 Fast Facts
Joined the Workplace Charging Challenge: March 4, 2013
Headquarters: Danvers, MA
Charging Locations: Danvers, MA
Domestic Employees: 8,000
More Information
Workplace Charging News
April 30, 2013
ChargePoint and SYLVANIA Lighting Services Announce Reseller Agreement for Electric Vehicle Charging Stations in United States
Campbell, CA and Danvers, MA – ChargePoint, the world's largest network of electric vehicle (EV) charging stations and the services division of North American lighting leader OSRAM SYLVANIA today announced a reseller agreement. Under terms of the agreement SYLVANIA Lighting Services (SLS), a subsidiary of OSRAM SYLVANIA and leader in lighting installation and energy management solutions, will sell and install commercial and public ChargePoint EV charging stations in the United States. SYLVANIA Lighting Services is an established ChargePoint installer, having recently installed 33 EV charging stations in the City of Austin, Texas.