Over the past 20 years, Pepco Holdings, Inc. (PHI) has been a leader in the use of alternative fuel vehicles, most specifically with plug-in electric vehicles (PEVs) and hybrid plug-in electric vehicles (PHEVs). PHI currently has 207 PHEVs as well as 27 hybrid bucket trucks in its fleet. Today, technological changes in the utility and automotive industries are converging to create an environment in which collaboration is quickly becoming the key to success. Achieving this success will bring benefits to its customers, as well as supporting the future environmental needs of the communities we serve. Plug-in vehicles provide a vivid example of this convergence of innovation and benefits. Through the Workplace Charging Challenge, PHI is evaluating its employees charging needs.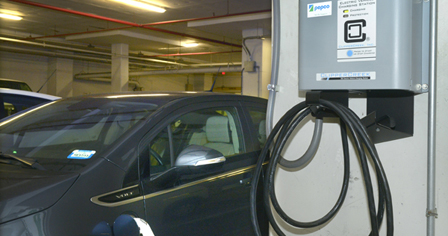 Fast Facts
Joined the Workplace Charging Challenge: March 12, 2013
Headquarters: Washington, DC
Charging Locations: N/A
Domestic Employees: 4,610
More Information
Workplace Charging News
April 24, 2013
PHI Accepts President's Clean Energy Grand Challenge
Pepco Holdings Partners with DOE in Expanding US Electric Car Charging Infrastructure
Washington, DC. – Pepco Holdings, Inc. (PHI) has signed a pledge to partner with the U.S. Department of Energy (DOE) to implement the Workplace Charging Challenge. The Workplace Charging Challenge calls upon America's employers to act as Partners and make a bold commitment to provide plug-in electric vehicle (PEV) charging access to their workforce. The goal is to increase the number of American employers offering workplace charging by tenfold in the next five years.
By signing the pledge, PHI has committed a Senior Executive as Sponsor, to embark on a project that evaluates PEV charging demand at the workplace and based on such assessment to develop a plan within six months to meet those needs at least at one major worksite. In addition PHI will contribute to DOE the applicable progress information.