U.S. Department of Energy - Energy Efficiency and Renewable Energy
Vehicle Technologies Office
Workplace Charging Challenge Partner: The Hartford
With more than 200 years of expertise, The Hartford is a leader in property and casualty insurance, group benefits and mutual funds. In 2011, The Hartford installed 6 charging stations at its three main campuses in Hartford, Simsbury and Windsor, Connecticut, for a total of 12 EVSE. The Hartford offers free charging for to its employees to encourage the use of PEVs. This action supports its overall strategy to demonstrate leadership in the industry on environmental stewardship and to innovate by anticipating new insurance markets. This effort will also help the company meet its greenhouse gas reduction target to reduce GHGs by 20 percent from 2010 to 2017.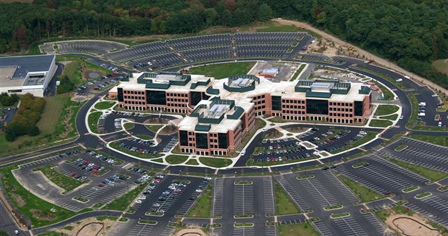 Fast Facts
Joined the Workplace Charging Challenge: April 3, 2013
Headquarters: Hartford, CT
Charging Locations: Hartford, CT; Windsor, CT; Simsbury, CT
Domestic Employees: 20,000
More Information
Workplace Charging News
April 6, 2013
The Hartford Makes It Easier to Drive Electric Cars
Hartford, CT. – With an estimated 27,000 electric cars expected to hit the roads in 2011, The Hartford Financial Services Group, Inc. (NYSE: HIG) today announced it is installing electric vehicle (EV) charging stations at its Hartford, Simsbury and Windsor, Conn., campuses. The company is also enhancing its homeowners insurance products with several new green features, including coverage for home-based electric vehicle charging stations.
"Electric vehicle charging stations will soon be an integral part of the American infrastructure, both at the workplace and in the home," said Liam E. McGee, The Hartford's chairman, president and chief executive officer. "Installing electric vehicle charging stations and providing insurance coverage for them demonstrates our support for developing the electric vehicle market and our commitment to a cleaner environment."