Workplace Charging Challenge Partner: Schneider Electric
As a global specialist in energy management with operations in more than 100 countries, Schneider Electric offers integrated solutions across multiple market segments. Schneider Electric aims to make free plug-in electric vehicle (PEV) charging accessible to all employees and nearby residents to help them drive PEVs free of range anxiety. Schneider Electric currently has 48 EVSE for PEVs across 16 different US locations. Moving forward, Schneider Electric plans to install charging infrastructure at all of its major headquarters locations and seek out other offices to deploy this initiative.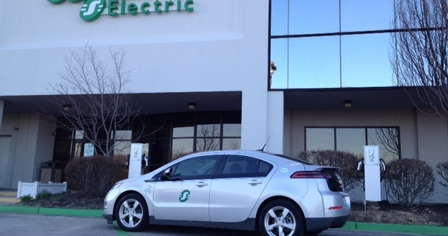 Fast Facts
Joined the Workplace Charging Challenge: March 29, 2013
Headquarters: Palatine, IL
Charging Locations: Cedar Rapids, IA; Palatine, IL; O'Fallon, MO; Des Plaines, IL; Knightdale, NC; West Kingston, RI; North Andover, MA; Billerica, MA; Nashville, TN; LaVergne, TN; Smryna, TN; Clovis, CA; Costa Mesa, CA; Carrollton, TX; Seneca, SC; Lexington, KY; Detroit, MI
Domestic Employees: 18,000
Multimedia
Watch videos by Workplace Charging Partner Schneider Electric. View more videos on the Alternative Fuels and Advanced Vehicles Data Center.