Workplace Charging Challenge Partner: San Diego Gas & Electric
To serve the growing list of SDG&E employees that have purchased plug-in electric vehicles (PEVs), and to provide implementation examples for our commercial/industrial customers, SDG&E has initially installed pay-for-use employee charging at strategic locations around its San Diego, California service territory. With the chargers at these locations, and today's fully electric vehicles, employees can attend to any intra-day trip and reach the furthest boundaries of SDG&E's 4,100 square-mile service territory. As of May 2013, 37 SDG&E employees have purchased PEVs, and the list is growing rapidly. Based on an employee survey of frequent intra-day destinations, SDG&E will expand its employee charging deployment to ensure it serves all PEV drivers and driving trips. SDG&E's workplace charging expansion plans will help make PEV ownership as convenient and comfortable as conventional vehicle ownership, while minimizing costs for drivers and utility customers.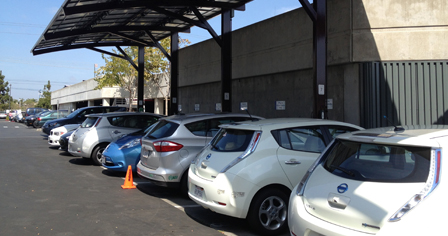 Fast Facts
Joined the Workplace Charging Challenge: January 31, 2013
Headquarters: San Diego, CA
Charging Locations: San Diego, CA; South Orange County,CA
Domestic Employees: 5,000
Multimedia
Watch a video about Workplace Charging Partner San Diego Gas & Electric. View more videos on the Alternative Fuels and Advanced Vehicles Data Center.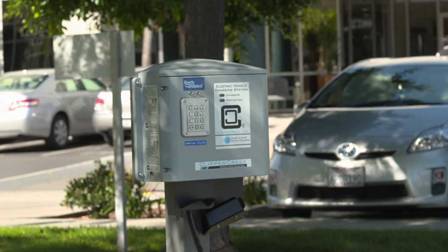 More Information
Workplace Charging News
April 23, 2013
New Solar Carport at SDG&E Features More EV Chargers
San Diego, CA. – San Diego Gas & Electric has installed 10 new plug-in electric vehicle (PEV) chargers at its Century Park location in Kearny Mesa. In cooperation with SDG&E's Sustainable Communities Program, Facilities and Clean Transportation teams, the chargers were installed as part of a project that includes a 25-kilowatt solar shade canopy and an 88-kilowatt-hour energy storage system.
With the participation of nearly 40 employees that have purchased PEVs, and SDG&E's own plug-in fleet, the project will support demonstrations of:
The effectiveness of low-cost charging equipment for the work place
Dynamic pricing that provides access to low priced energy at times-of-day when wholesale energy prices are low.
PEV charging load management, influenced by local energy management systems and/or utility Demand Response (DR) systems.
Workplace charging
The project reinforces SDG&E's commitment to the U.S. Department of Energy's Workplace Charging Challenge, which aims to expand the availability of workplace charging, increase the convenience of plug-in electric vehicles (PEVs) and provide drivers with more charging options.
With the new charging system up and running, employees can sign up for a personal identification number (PIN) and charge their personal plug-in vehicles while parked at their workplace. Employees are charged for their energy usage based on how much and when they charge throughout the day.
The PEV charging system was built by Liberty Plug-ins and uses some of the lowest cost charging stations on the market. A new and unique feature of this project is the charging stations' central kiosk that incorporates access control, metering, and accommodations for demand-response and dynamic pricing.