Workplace Charging Challenge Partner: Verizon
Verizon is committed to sustainability in all areas of our business, including making 'green driving' more convenient. Verizon now has three workplaces with charging stations: a retail store, data center, and call center. Verizon's most recent charging station deployment was on Earth Day 2013, when its first call center received a charging station. Verizon has engaged its employees through surveys to find its next target locations to continue to expand its program.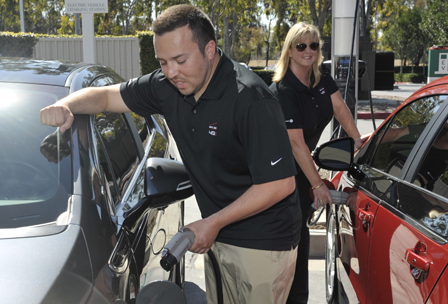 Fast Facts
Joined the Workplace Charging Challenge: January 31, 2013
Headquarters: New York, NY
Charging Locations: Twinsburg, OH; Huntington Beach, CA; Irvine, CA; Basking Ridge, NJ; Irving, TX
Domestic Employees: 180,000
More Information
Workplace Charging News
January 31, 2013
Verizon, Department of Energy Partner to Foster America's Electric Vehicle Charging Infrastructure
Washington, DC. – Verizon is joining with the U.S. Department of Energy to help meet President Obama's goal of empowering the U.S. to produce plug-in electric vehicles that are as affordable and convenient as their gasoline counterparts.
The DOE's initiative, called the Workplace Charging Challenge, came in response to the president's announcement last year of the Electric Vehicle Everywhere Challenge, which is aimed at producing more affordable and convenient electric vehicles by 2022. Verizon and 12 other companies will help develop and commercialize the infrastructure for electric vehicle charging stations. The stations are vital to the widespread adoption of plug-in electric vehicles throughout the United States.