U.S. Department of Energy - Energy Efficiency and Renewable Energy
Vehicle Technologies Office
Fact #273: June 23, 2003
Europeans Charging for Traffic Congestion
On February 17, 2003, the city of London began a congestion charge for vehicles on the streets in central London between the hours of 7:00 a.m. and 6:30 pm, Monday through Friday. The charge is 5£ — about US$8.00 — and can be paid by various methods. Approximately 90,000 people per day paid the congestion charge the first week it was enacted, and traffic levels were down an estimated 25%. More than 200 cameras stationed at the borders of the controlled area help enforce the charge. The cameras read the license plate numbers of vehicles entering the zone, and those numbers are compared to the database of vehicle owners who have paid the daily charge. Drivers who pay the charge before 10:00 p.m. on the day of travel are required to pay the normal 5£ fee. The fee doubles to 10£ if paid between 10:00 p.m. and midnight. If the fee is not paid by midnight on the day of travel, the vehicle's registered owner is fined 80£.
A survey taken between February 24 and March 12, 2003 of 73 cities or areas in 15 European countries indicated that some European cities are already following London's lead, and others are interested in the concept. Many of the respondents (77%) felt that it was too soon to tell whether London's congestion charging system was successful.
Survey Question: Which of the following best describes your city's or area's level of interest in adopting a congestion charging scheme?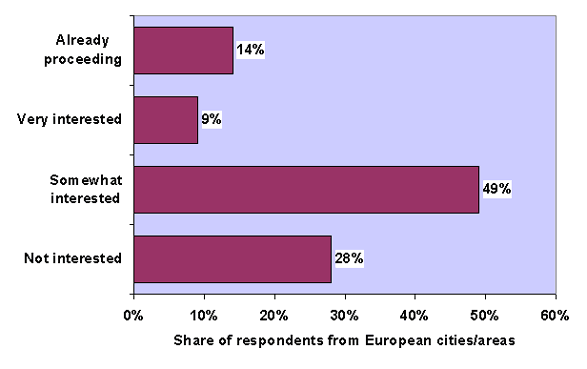 Supporting Information
Return to 2003 Facts of the Week