Fact #428: June 12, 2006
Light Vehicle Tax Credits
The Energy Policy Act of 2005 created tax credits for consumers who purchase certain advanced technology vehicles, such as hybrid vehicles and vehicles that run on compressed natural gas (CNG). The graph below shows that the highest estimated tax credit is for the Honda Civic that runs on CNG. Purchasers of diesel light vehicles may also be able to receive a tax credit in the future; at the current time, none of the diesel light vehicles qualify for the credit because they do not meet the emission requirements.
Estimates of Light Vehicle Tax Credits under the Energy Policy Act of 2005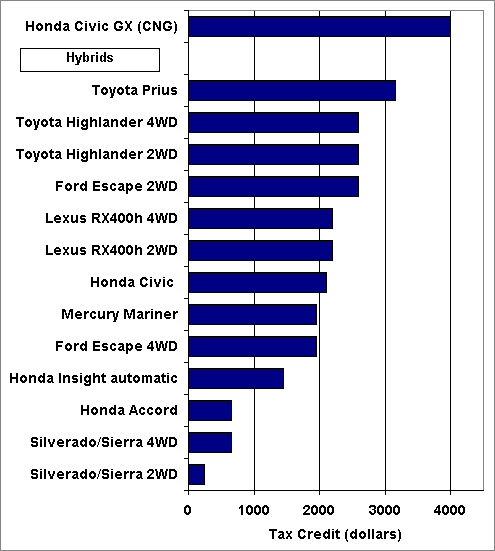 Supporting Information
Estimated Light Vehicle Tax Credits
Make
Model
Fuel Type
Vehicle Class
Adjusted City Miles per Gallon
Fuel Saved
(gallons)
Total Credit
Honda
Civic GX
CNG
Car
30
Not available
$4,000
Toyota
Prius
Hybrid
Car
60
2,744
$3,150
Toyota
Highlander Hybrid (4wd)
Hybrid
SUV
31
3,316
$2,600
Toyota
Highlander Hybrid (2wd)
Hybrid
SUV
33
3,557
$2,600
Ford
Escape Hybrid (2wd)
Hybrid
SUV
36
3,155
$2,600
Lexus
RX 400h (4wd)
Hybrid
SUV
31
3,316
$2,200
Lexus
RX 400h (2wd)
Hybrid
SUV
33
3,557
$2,200
Honda
Civic Hybrid
Hybrid
Car
49
2,348
$2,100
Mercury
Mariner Hybrid
Hybrid
SUV
33
2,907
$1,950
Ford
Escape Hybrid (4wd)
Hybrid
SUV
33
2,907
$1,950
Honda
Insight (auto)
Hybrid
Car
57
1,498
$1,450
Honda
Accord Hybrid
Hybrid
Car
25
1,697
$650
Chevrolet/GMC
Silverado/Sierra (4wd)
Hybrid
Pickup
17
1,622
$650
Chevrolet/GMC
Silverado/Sierra (2wd)
Hybrid
Pickup
18
1,393
$250
Return to 2006 Facts of the Week