Fact #450: January 1, 2007
Information Sources for First-Time Car Buyers
R.L. Polk and Company conducted an Internet poll in November 2005 of consumers between the ages of 18 and 30 who were first time buyers (or lessees) of a new or used vehicle in the past two years. The Internet was cited by 35% of respondents as the most important resource for their vehicle decision.
Which one source of information was most important when making decisions about your first vehicle?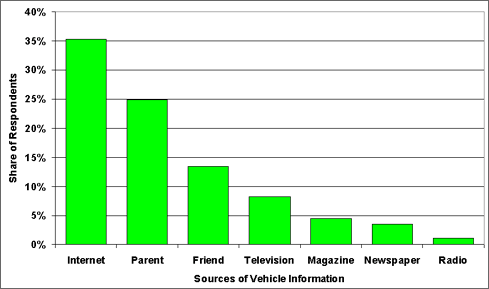 Supporting Information
Which one of these sources of information was most important when making decisions about your first vehicle?
Internet
35%
Parent
25%
Friend
13%
Television
8%
Magazine
4%
Newspaper
4%
Radio
1%

Source: Polk Center for Automotive Studies, "Building the Pipeline: Insights on First Time Buyers," December 2005. (Based on public opinion poll conducted on the Internet, Nov 4 – Nov 10, 2005. N=366 U.S. residents, age 18 to 30.)
Return to 2007 Facts of the Week