Fact #470: May 21, 2007
Biodiesel Sales
Biodiesel is a form of fuel that is derived from vegetable oils or animal fats. It was defined as an alternative fuel by the Energy Policy Act of 1992. Biodiesel is often blended with petroleum-based diesel in varying amounts (i.e., B-5, B-10, B-20). Pure biodiesel (B-100) can also be used in most diesel engines with little or no modification. Sales of biodiesel more than tripled from 2005 to 2006; tax incentives, along with the Environmental Protection Agency's requirement to substantially lower sulfur content in on-road diesel fuel, are likely the main reasons for the increase.
U.S. Biodiesel Sales, 1999-2006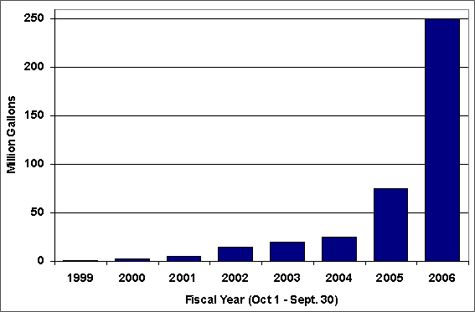 Supporting Information
U.S. Biodiesel Sales
Fiscal
Year
Million
Gallons
1999
0.5
2000
2.0
2001
5.0
2002
15.0
2003
20.0
2004
25.0
2005
75.0
2006
250.0

Source: National Biodiesel Board Web Site, Frequently Asked Questions.
Return to 2007 Facts of the Week