Fact #518: May 12, 2008
Top 10 States for New Hybrid Registrations, 2007
Although hybrid vehicles accounted for just 2.2% of all new vehicle registrations for 2007, hybrid vehicle registrations rose 38% for a total of 350,289. Of the top 10 states for new hybrid vehicle registrations, California had by far the most, accounting for a quarter of all new hybrid vehicles, while the remaining top 9 states each had about 3% to 5% percent of new hybrid registrations. The second graph shows that while the state of Washington had only 3.7% of the new hybrid registrations for 2007, it was second only to California on a per capita basis.
Top 10 States for New Hybrid Vehicle Registrations, 2007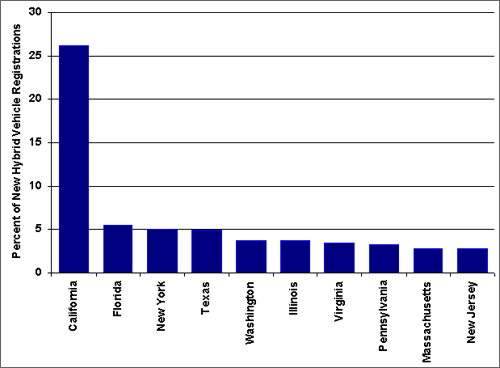 New Hybrid Vehicle Registrations per Thousand People, 2007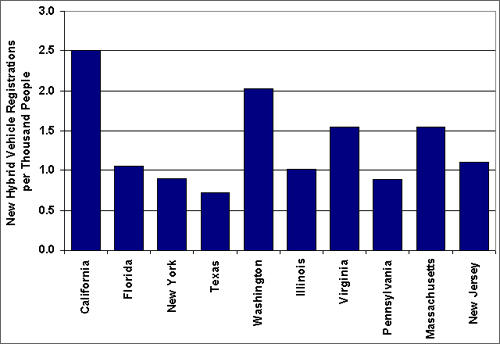 Supporting Information
Top 10 States for New Hybrid Vehicles, 2007
State
New Hybrid Vehicle Registrations (Calendar Year 2007)
Percent of New Registations
Population (U.S. Census July 1, 2007)
New Hybrid Vehicle Registrations Per Thousand People
California
91,417
26.1
36,553,215
2.5
Florida
19,283
5.5
18,251,243
1.1
New York
17,385
5.0
19,297,729
0.9
Texas
17,196
4.9
23,904,380
0.7
Washington
13,107
3.7
6,468,424
2.0
Illinois
13,094
3.7
12,852,548
1.0
Virginia
11,952
3.4
7,712,091
1.5
Pennsylvania
11,089
3.2
12,432,792
0.9
Massachusetts
9,982
2.8
6,449,755
1.5
New Jersey
9,645
2.8
8,685,920
1.1

Sources: R.L. Polk and Company, U.S. Census Bureau
Return to 2008 Facts of the Week