Fact #549: December 15, 2008
Biofuels Corridor extends from the Great Lakes to the Gulf of Mexico
E-85 (85% ethanol, 15% gasoline) and B20 (20% biodiesel, 80% conventional diesel) are now available for the entire 886-mile length of Interstate 65 from Gary, Indiana, to Mobile, Alabama. The project began in 2006 and was completed in October 2008 with biofuel station locations in Indiana, Kentucky, Tennessee, and Alabama. Currently, it is possible to travel the entire length of I-65 and be no more than a quarter of a tank from the nearest E85 station.
Map of E-85 Station Locations on the Biofuels Corridor (I-65), October 2008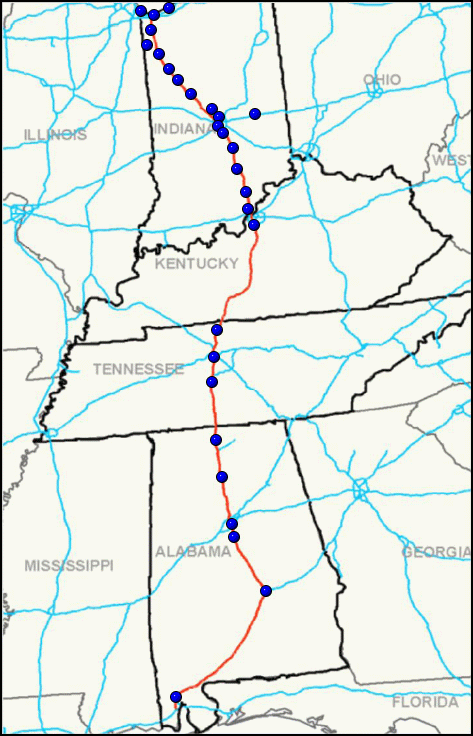 Supporting Information
E-85 Stations on the Biofuels Corridor (I-65)
State
Number of E-85 Stations
Indiana
18
Ketucky
1
Tennessee
3
Alabama
6
Total
28

Source: http://www.in.gov/oed/2396.htm
Corridor Partners:
U.S. Department of Energy Indiana Office of Energy and Defense Development (OED)-Lead Partner
Central Indiana Clean Cities Alliance, Inc. (CICCA)
South Shore Clean Cities, Inc. (SSCC)
Indiana Soybean Alliance (ISA)
America Lung Association of Indiana
Kentucky Clean Fuels Coalition (KCFC)
Energy, Weatherization & Technology Division of the Alabama Department of Economic and Community Affairs (ADECA-EWT)
Alabama Clean Fuels Coalition
General Motors
EPIC