Fact #598: November 23, 2009
Hybrid Vehicle Sales by Model
The number of all light vehicles sold declined about 18% from 2007 to 2008, while the number of hybrid vehicles sold declined about 11%. Five new hybrid models were sold in 2008; other than those, the only hybrid model that sold more in 2008 than in 2007 was the Nissan Altima. Despite the downturn in sales, the Toyota Prius continues to dominate hybrid sales.
Hybrid Electric Vehicle Sales by Model, 1999-2008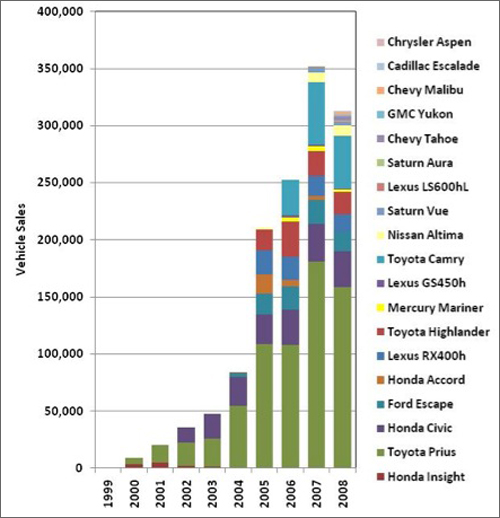 Supporting Information
Hybrid Electric Vehicle Sales by Model, 1999-2008
Vehicle
1999
2000
2001
2002
2003
2004
2005
2006
2007
2008
Total
Honda Insight
17
3,788
4,726
2,216
1,200
583
666
722
0
0
13,918
Toyota Prius
5,562
15,556
20,119
24,600
53,991
107,897
106,971
181,221
158,574
674,491
Honda Civic
13,700
21,800
25,571
25,864
31,251
32,575
31,297
182,058
Ford Escape
2,993
18,797
20,149
21,386
17,173
80,498
Honda Accord
1,061
16,826
5,598
3,405
196
27,086
Lexus RX400h
20,674
20,161
17,291
15,200
73,326
Toyota Highlander
17,989
31,485
22,052
19,441
90,967
Mercury Mariner
998
3,174
3,722
2,329
10,223
Lexus GS 450h
1,784
1,645
678
4,107
Toyota Camry
31,341
54,477
46,272
132,090
Nissan Altima
8,388
8,819
17,207
Saturn Vue
4,403
2,920
7,323
Lexus LS600hL
937
907
1,844
Saturn Aura
772
285
1,057
Chevy Tahoe
3,745
3,745
GMC Yukon
1,610
1,610
Chevy Malibu
2,093
2,093
Cadillac Escalade
801
801
Chrysler Aspen
46
46
Total
17
9,350
20,282
36,035
47,600
84,199
209,711
252,636
352,274
312,386
1,288,764

Source: Alternative Fuels and Advanced Vehicle Technologies Center,