Fact #707: December 26, 2011
Illustration of Truck Classes
There are eight truck classes, categorized by the gross vehicle weight rating (GVWR) that the vehicle is assigned when it is manufactured. These categories are used by the trucking industry and many government agencies to classify trucks. The pictures below show examples of some of the different types of trucks that would be included in each class.
Examples of Trucks in Each Truck Class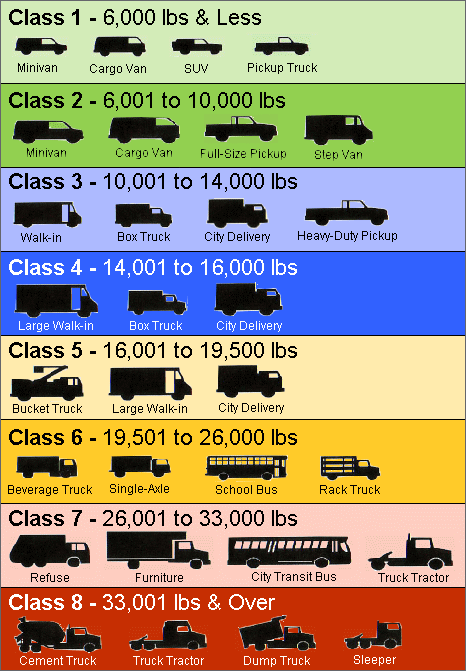 Supporting Information
Examples of Trucks in Each Truck Class
Class 1 – 6,000 lbs & Less
Minivan
Cargo Van
SUV
Pickup Truck
Class 2 – 6,001 to 10,000 lbs
Minivan
Cargo Van
Full-Size Pickup
Step Van
Class 3 – 10,001 to 14,000 lbs
Walk-in
Box Truck
City Delivery
Heavy-Duty Pickup

Class 4 – 14,001 to 16,000 lbs

Large Walk-in
Box Truck
City Delivery
 
Class 5 – 16,001 to 19,500 lbs
Bucket Truck
Large Walk-in
City Delivery
 
Class 6 – 19,501 to 16,000 lbs
Beverage Truck
Single-Axle
School Bus
Rack Truck
Class 7 – 26,001 to 33,000 lbs
Refuse
Furniture
City Transit Bus
Truck Tractor

Class 8 – 33,001 lbs & Over

Cement Truck
Truck Tractor
Dump Truck
Sleeper

Source: Oak Ridge National Laboratory, Center for Transportation Analysis, Oak Ridge, TN.