Fact #715: February 20, 2012
The Average Age of Light Vehicles Continues to Rise
The average age for cars and light trucks continues to rise as consumers hold onto their vehicles longer. Between 1995 and 2011, the average age for cars increased by 32% from 8.4 years to 11.1 years. For light trucks, the average age increased by 25% during that same period from 8.3 years to 10.4 years. The popularity of SUVs and minivans through the 1990s resulted in more new truck sales, bringing down the average age for all light trucks as shown in the figure below.
Average Age of Cars and Light Trucks, 1995-2011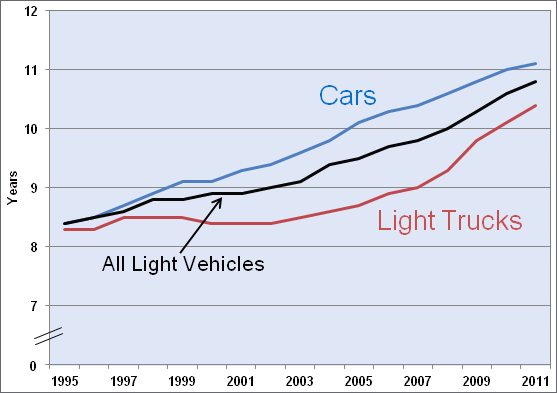 Supporting Information
Average Age of Passenger Cars and Light Trucks (Years)

| Year | Passenger Cars | Light Trucks | Total Light Vehicles |
| --- | --- | --- | --- |
| 1995 | 8.4 | 8.3 | 8.4 |
| 1996 | 8.5 | 8.3 | 8.5 |
| 1997 | 8.7 | 8.5 | 8.6 |
| 1998 | 8.9 | 8.5 | 8.8 |
| 1999 | 9.1 | 8.5 | 8.8 |
| 2000 | 9.1 | 8.4 | 8.9 |
| 2001 | 9.3 | 8.4 | 8.9 |
| 2002 | 9.4 | 8.4 | 9.0 |
| 2003 | 9.6 | 8.5 | 9.1 |
| 2004 | 9.8 | 8.6 | 9.4 |
| 2005 | 10.1 | 8.7 | 9.5 |
| 2006 | 10.3 | 8.9 | 9.7 |
| 2007 | 10.4 | 9.0 | 9.8 |
| 2008 | 10.6 | 9.3 | 10.0 |
| 2009 | 10.8 | 9.8 | 10.3 |
| 2010 | 11.0 | 10.1 | 10.6 |
| 2011 | 11.1 | 10.4 | 10.8 |