Fact #766: February 11, 2013
Electricity Prices are More Stable than Gasoline Prices
All energy prices vary from month to month and year to year. However, when comparing the national average retail price for a gallon of regular gasoline and a kilowatt-hour (kWh) for residential electricity, the pricing for gasoline is far more volatile. In the two year period shown in the figure below, electricity prices varied by approximately 11% from 11.06 cents to 12.33 cents per kWh. For the same period, gasoline prices varied by approximately 40% from $2.80 to $3.91 dollars per gallon.
National Average Retail Price for Regular Gasoline and Residential Electricity,
October 2010 – October 2012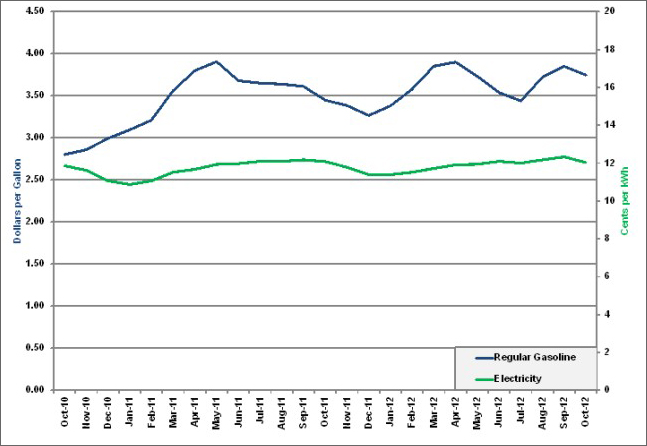 Supporting Information
National Average Retail Price for a Gallon of Regular Gasoline and a kWh of Residential Electricity
Date
Gasoline
(Dollars per gallon)
Electricity
(Cents per kWh)
Oct-10
2.80
11.86
Nov-10
2.86
11.62
Dec-10
2.99
11.06
Jan-11
3.10
10.87
Feb-11
3.21
11.06
Mar-11
3.56
11.52
Apr-11
3.80
11.67
May-11
3.91
11.93
Jun-11
3.68
11.97
Jul-11
3.65
12.09
Aug-11
3.64
12.09
Sep-11
3.61
12.17
Oct-11
3.45
12.08
Nov-11
3.38
11.78
Dec-11
3.27
11.40
Jan-12
3.38
11.39
Feb-12
3.58
11.52
Mar-12
3.85
11.72
Apr-12
3.90
11.91
May-12
3.73
11.94
Jun-12
3.54
12.09
Jul-12
3.44
12.00
Aug-12
3.72
12.17
Sep-12
3.85
12.33
Oct-12
3.75
12.03
Source: U.S. Energy Information Administration, Average Retail Price of Electricity to Ultimate Customers, U.S. Monthly Retail Gasoline Prices