Fact #767: February 18, 2013
Federal Excise Tax on Gasoline, 1932 - 2012
The Federal excise tax on gasoline began in 1932 and has generally been used to fund transportation related projects like highway construction and repair. This tax began at 1 cent per gallon in 1932 and has been adjusted over the years. However, the increases have been sporadic with half cent or 1 cent increases some years and larger increases of 4 or 5 cents per gallon in other years. The number of years between increases has also varied. The longest period without an increase in this tax was 24 years from 1959 to 1983. The last increase in the Federal excise tax on gasoline was in 1997 when it was raised to 18.4 cents per gallon.
Federal Excise Tax on Gasoline, 1932 - 2012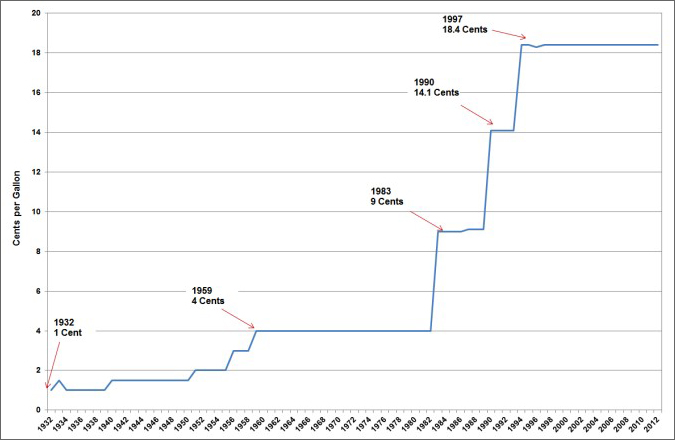 Supporting Information
Federal Gasoline Excise Tax 1932 to Present
Year
Cents per Gallon
Year
Cents per Gallon
1932
1
1973
4
1933
1.5
1974
4
1934
1
1975
4
1935
1
1976
4
1936
1
1977
4
1937
1
1978
4
1938
1
1979
4
1939
1
1980
4
1940
1.5
1981
4
1941
1.5
1982
4
1942
1.5
1983
9
1943
1.5
1984
9
1944
1.5
1985
9
1945
1.5
1986
9
1946
1.5
1987
9.1
1947
1.5
1988
9.1
1948
1.5
1989
9.1
1949
1.5
1990
14.1
1950
1.5
1991
14.1
1951
2
1992
14.1
1952
2
1993
14.1
1953
2
1994
18.4
1954
2
1995
18.4
1955
2
1996
18.3
1956
3
1997
18.4
1957
3
1998
18.4
1958
3
1999
18.4
1959
4
2000
18.4
1960
4
2001
18.4
1961
4
2002
18.4
1962
4
2003
18.4
1963
4
2004
18.4
1964
4
2005
18.4
1965
4
2006
18.4
1966
4
2007
18.4
1967
4
2008
18.4
1968
4
2009
18.4
1969
4
2010
18.4
1970
4
2011
18.4
1971
4
2012
18.4
1972
4
 
 
Source: Tax Foundation website, Federal Gasoline Excise Tax Rate, 1932-2008