Fact #789: July 22, 2013
Comparison of State Incentives for Plug-In Electric Vehicle Purchases
In addition to a Federal government tax credit up to $7,500, consumers who purchase plug-in electric vehicles (PEVs) may also receive state government incentives which are different for each state. Shown below are state incentives that can be quantified, such as tax credits and rebates, sales and use tax exemptions, reduced license taxes, title tax exemptions, and reduced registration fees. West Virginia and Colorado have the highest incentive amounts, both of which are tax credits.
Select State PEV Incentives Totals by State, July 2013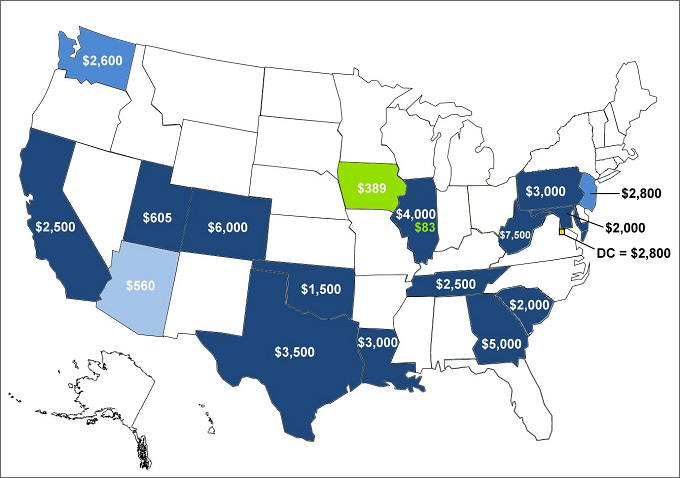 Supporting Information
Selected State Incentives for Plug-in Vehicles, July 2013
(Dollars)
State
Tax Credits & Rebates
Sales and Use Tax Exemption
Reduced License Tax
Title Tax Exemption
Reduced Registration Fee
Total
AZ
 
 
$560
 
 
$560
CA
$2,500
 
 
 
 
$2,500
CO
$6,000
 
 
 
 
$6,000
DC
 
 
 
$2,800
 
$2,800
GA
$5,000
 
 
 
 
$5,000
IA
 
 
 
 
$389
$389
IL
$4,000
 
 
 
$83
$4,083
LA
$3,000
 
 
 
 
$3,000
MD
$2,000
 
 
 
 
$2,000
NJ
 
$2,800
 
 
 
$2,800
OK
$1,500
 
 
 
 
$1,500
PA
$3,000
 
 
 
 
$3,000
SC
$2,000
 
 
 
 
$2,000
TN
$2,500
 
 
 
 
$2,500
TX
$3,500
 
 
 
 
$3,500
UT
$605
 
 
 
 
$605
WA
$2,600
 
 
 
$2,600
WV
$7,500
 
 
 
 
$7,500
Notes:


When applicable, in calculation purposes for, e.g., sales tax exemptions, etc., the vehicle was assumed to have a value of $40,000 and a weight of 3,500 lbs.
Only the incentives listed in the columns above were considered. Other state incentives, such as high-occupancy vehicle lane exemptions and reduced toll rates are not reflected here. Also, incentives on the charging equipment, electricity discounts, etc., were not considered.

Sources: Alternative Fuels Data Center accessed July 2, 2013.
Value of incentives also obtained from: Arizona DOT, Title and Registration, Center for Sustainable Energy California, CVRP Eligible Vehicles, District of Columbia, Department of Motor Vehicles, Iowa TaxandTags.gov, Registration Fees by Vehicle Type, CyberDriveIllinois.com, Vehicle Services, New Jersey Motor Vehicle Commission, Instructions for NJ Residents to Title & Register a Vehicle, CarsDirect, How to Calculate Washington Car Tax