Fact #415: March 13, 2006
Changes in Vehicles per Capita around the World
The graphs below show the number of motor vehicles per thousand people for various countries. The data for the U.S. are displayed in the line which goes from 1900 to 2004. The points labeled on that line show data for the other countries/regions around the world and how their vehicles per thousand people compare to the U.S. at two different points in time, 1994 and 2004. For instance, the top graph shows that in 1994, Western Europe's vehicles per thousand people was about where the U.S. was in 1966, but by 2004 it is about where the U.S. was in 1972. The lower part of the graph (1900-1940) is shown enlarged below the first graph.
With the exception of Africa, Canada is the only country/region shown that had a lower ratio of vehicles per thousand people in 2004 than in 1994; Africa's ratio stayed nearly the same over the ten year period. China's ratio more than doubled from 1994 to 2004.
Vehicles per Thousand People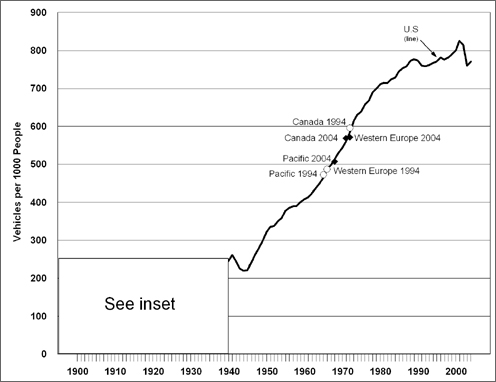 Inset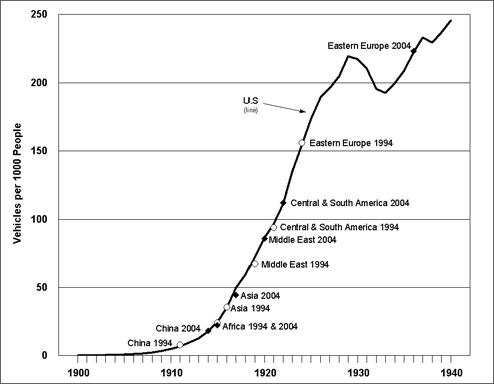 Supporting Information
Vehicles per 1000 People
Country/Region
1994
2004
China
7.9
18.5
Africa
24.2
22.5
Asia, Far East
35.8
44.6
Asia, Middle East
67.4
85.9
Central & South America
94.0
112.4
Europe, East
155.7
223.2
Europe, West
486.8
570.8
Pacific
472.4
507.4
Canada
596.0
569.0
Year
U.S. Vehicles
per 1000 People
Year
U.S. Vehicles
per 1000 People
Year
U.S. Vehicles
per 1000 People
1900
0.11
1940
245.63
1980
710.71
1901
0.19
1941
261.57
1981
715.22
1902
0.29
1942
244.73
1982
713.95
1903
0.41
1943
225.89
1983
724.30
1904
0.67
1944
220.23
1984
728.20
1905
0.94
1945
221.80
1985
744.50
1906
1.27
1946
243.11
1986
753.33
1907
1.65
1947
262.56
1987
758.58
1908
2.24
1948
280.20
1988
772.92
1909
3.45
1949
299.56
1989
776.99
1910
5.07
1950
322.86
1990
773.40
1911
6.81
1951
335.19
1991
760.19
1912
9.90
1952
338.06
1992
757.96
1913
12.94
1953
350.95
1993
761.94
1914
17.79
1954
358.87
1994
766.94
1915
24.77
1955
377.80
1995
770.99
1916
35.48
1956
385.71
1996
781.16
1917
49.57
1957
390.30
1997
776.02
1918
59.69
1958
390.53
1998
781.20
1919
72.50
1959
401.25
1999
790.07
1920
86.78
1960
408.80
2000
800.28
1921
96.68
1961
413.53
2001
825.45
1922
111.53
1962
424.31
2002
814.74
1923
134.90
1963
436.99
2003
760.04
1924
154.35
1964
449.81
2004
771.47
1925
173.26
1965
465.03
1926
189.10
1966
486.89
1927
195.77
1967
497.50
1928
204.87
1968
513.12
1929
219.31
1969
529.97
1930
217.34
1970
542.51
1931
210.37
1971
560.19
1932
195.38
1972
583.89
1933
192.38
1973
613.59
1934
199.90
1974
630.80
1935
208.61
1975
638.56
1936
222.62
1976
658.04
1937
233.33
1977
667.57
1938
229.65
1978
688.65
1939
236.93
1979
698.90
Return to 2006 Facts of the Week