Fact #440: October 23, 2006
Public Attitude on Hybrids 2005
Due to system upgrades, the Fact of the Week was not posted for the weeks of September 4 through October 16, 2006.
R.L. Polk and Company conducted an Internet poll in May 2005 on the subject of hybrid vehicles. Respondents were given some statements about hybrid vehicles and were asked whether they agreed or disagreed with the statement. More than half of the respondents (59%) agreed that every vehicle sold today should offer a hybrid version. Only 13% of respondents thought that hybrid vehicles are a fad that will pass within five years.
I believe…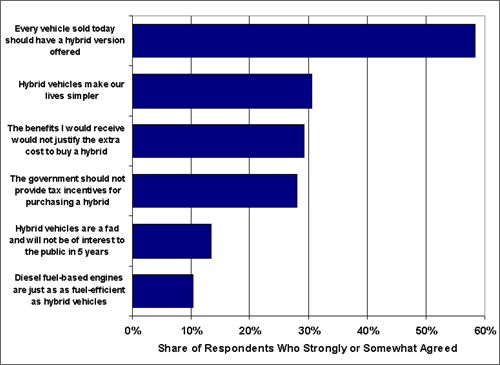 Supporting Information
I believe…
Share of
Respondents that
Strongly Agree or
Somewhat Agree
Every vehicle sold today should have a hybrid version offered
58%
Hybrid vehicles make our lives simpler
31%
The benefits I would receive would not justify the extra cost to buy a hybrid
29%
The government should not provide tax incentives for purchasing a hybrid
28%
Hybrid vehicles are a fad and will not be of interest to the public in 5 years
13%
Diesel fuel-based engines are just as fuel-efficient as hybrid vehicles
10%

Source: Polk Center for Automotive Studies, "Consumer Considerations for Hybrid Vehicle: Public Views on an Emerging Segment," July 2005. (Based on public opinion poll conducted on the Internet, May 6 – May 9, 2005. N=307 U.S. residents, age 21 and older.)
Return to 2006 Facts of the Week