Fact #441: October 30, 2006
Knowledge about E85
A survey conducted on September 8, 2006 shows the general public's overall opinion of E85. With no background information given, the survey respondents were asked "What is your opinion of E85?" While 16 percent thought it was as good as or better than gasoline and roughly an equal percent (15) thought it was worse, the important number is that almost 70 percent of the survey respondents answered that they did not know about E85. Of the previously mentioned 16%, nine percent of respondents thought that E85 was just as good as gasoline and seven percent thought E85 was better than gasoline.
What is your opinion of E85?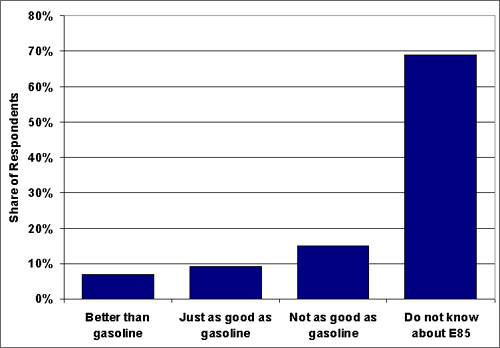 Supporting Information
What is your opinion of E85?
Share of
Respondents
Better than gasoline
7%
Just as good as gasoline
9%
Not as good as gasoline
15%
Do not know about E85
69%

Source: Opinion Research Survey conducted for the National Renewable Energy Laboratory, September 8, 2006, N=1,072.
Return to 2006 Facts of the Week