Fact #444: November 20, 2006
Opinions on Plug-In Hybrid Vehicles
Respondents in an April 2006 survey were asked about a plug-in hybrid vehicle (PHEV) that can get its energy from both gasoline and from plugging into an electrical outlet. When respondents were asked if a PHEV would be good for their household, 55% answered "yes."
Is a PHEV a good idea for your household?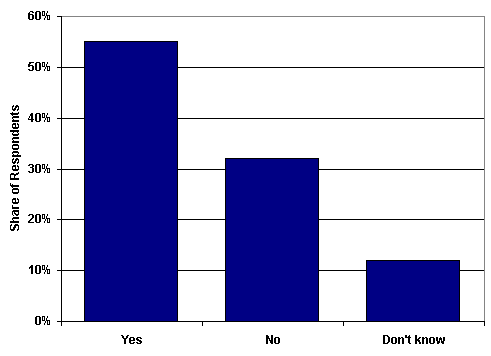 Supporting Information
Do you think that a vehicle that could take energy from a standard electric plug and from a gasoline pump would be a good idea for your household?
Answer:
Share of Respondents
Yes
55%
No
32%
Don't know
12%

Source: Opinion Research Survey conducted for the National Renewable Energy Laboratory, April 20, 2006, N=506.
Return to 2006 Facts of the Week