Fact #476: July 2, 2007
One Million Toyota Hybrids Worldwide
As of May 31, 2007, Toyota Motor Corporation's cumulative global sales of hybrid vehicles topped the one million mark. More than 70% of those sales were the Toyota Prius, which debuted in Japan in 1997. Nearly one third of the hybrids were sold in Japan, with another 55 percent sold in the U.S. Toyota sells hybrid vehicles in more than 40 countries worldwide. For U.S. hybrid vehicle sales, see Fact of the Week #462.
Toyota Motor Corporation's Worldwide Hybrid Sales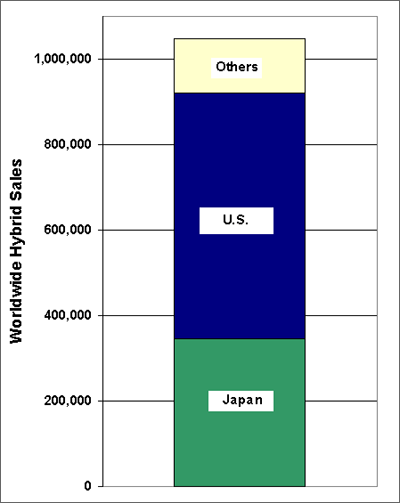 Supporting Information
Return to 2007 Facts of the Week