Fact #493: October 29, 2007
Market Share - Cars vs. Light Trucks
Before the popularity of sport utility vehicles (SUVs), cars dominated the light vehicle market. The graph below shows that the market share for pickup trucks has remained between 10 and 20% since 1975, and the market share for vans grew in the 1990's, but declined slightly in recent years. The market share for cars has declined as the SUV market has increased. The 2006 data show cars having 54% of the light vehicle market, but 2007 estimates show SUVs making a comeback.
New Light Vehicle Market Share, 1975-2005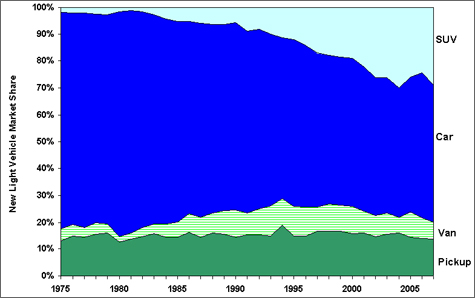 Supporting Information
New Light Vehicle Market Share, 1975-2005
Year
Car
Van
Pickup
SUV
1975
80.6%
4.5%
13.1%
1.8%
1976
78.8%
4.1%
15.1%
2.0%
1977
80.0%
3.6%
14.4%
2.0%
1978
77.3%
4.3%
15.6%
2.6%
1979
77.7%
3.5%
15.9%
2.9%
1980
83.5%
2.0%
12.7%
1.6%
1981
82.8%
2.3%
13.6%
1.3%
1982
80.2%
3.3%
14.8%
1.6%
1983
77.8%
3.6%
15.7%
2.8%
1984
76.2%
4.8%
14.5%
4.4%
1985
74.7%
5.8%
14.4%
5.1%
1986
71.8%
6.8%
16.4%
5.1%
1987
72.2%
7.4%
14.5%
5.9%
1988
70.2%
7.5%
16.1%
6.4%
1989
69.3%
8.8%
15.4%
6.4%
1990
69.9%
10.0%
14.6%
5.6%
1991
67.8%
8.2%
15.3%
8.7%
1992
66.6%
10.0%
15.2%
8.3%
1993
64.0%
10.9%
15.1%
10.0%
1994
59.6%
10.1%
18.9%
11.5%
1995
62.1%
10.9%
15.0%
12.0%
1996
60.0%
10.7%
14.9%
14.3%
1997
57.6%
8.8%
16.7%
17.0%
1998
55.2%
10.3%
16.7%
17.8%
1999
55.1%
9.6%
16.7%
18.7%
2000
55.0%
10.2%
15.7%
18.9%
2001
53.9%
7.9%
16.1%
22.1%
2002
51.6%
7.7%
14.8%
26.0%
2003
50.3%
7.8%
15.6%
26.2%
2004
47.9%
6.1%
15.9%
29.9%
2005
50.5%
9.3%
14.6%
25.8%
2006
54.0%
7.7%
14.1%
24.4%
2007
50.9%
6.4%
13.7%
29.0%

Source: U.S. Environmental Protection Agency, Light-Duty Automotive Technology and Fuel Economy Trends: 1975 through 2007, September 2007
Return to 2007 Facts of the Week