Fact #540: October 13, 2008
Gasoline Prices Adjusted for Inflation
The average annual price for a gallon of gasoline, when adjusted for inflation, was higher in 1980-81 than it was in 2007. It is projected by the Energy Information Administration (EIA) that the average 2008 price will rise above the high prices of the early eighties. The graph below shows projected value for 2008 as $3.44 in constant 2007 dollars.
Price of a Gallon of Gasoline, 1919-2008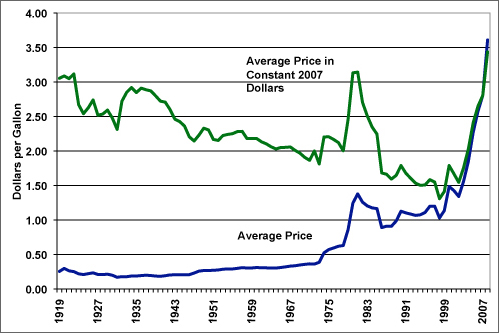 Supporting Information
Price of a Gallon of Gasoline, 1919-2008
Year
Dollars per Gallon
Constant 2007
Dollars per Gallon
1919
0.25
3.05
1920
0.30
3.09
1921
0.26
3.05
1922
0.25
3.12
1923
0.22
2.67
1924
0.21
2.54
1925
0.22
2.63
1926
0.23
2.74
1927
0.21
2.52
1928
0.21
2.53
1929
0.21
2.59
1930
0.20
2.48
1931
0.17
2.31
1932
0.18
2.72
1933
0.18
2.85
1934
0.19
2.92
1935
0.19
2.85
1936
0.19
2.91
1937
0.20
2.89
1938
0.20
2.87
1939
0.19
2.80
1940
0.18
2.72
1941
0.19
2.71
1942
0.20
2.60
1943
0.21
2.46
1944
0.21
2.43
1945
0.21
2.36
1946
0.21
2.21
1947
0.23
2.15
1948
0.26
2.23
1949
0.27
2.33
1950
0.27
2.31
1951
0.27
2.17
1952
0.28
2.15
1953
0.29
2.22
1954
0.29
2.24
1955
0.29
2.25
1956
0.30
2.28
1957
0.31
2.28
1958
0.30
2.18
1959
0.31
2.18
1960
0.31
2.18
1961
0.31
2.13
1962
0.31
2.10
1963
0.30
2.06
1964
0.30
2.03
1965
0.31
2.05
1966
0.32
2.05
1967
0.33
2.06
1968
0.34
2.01
1969
0.35
1.97
1970
0.36
1.91
1971
0.36
1.87
1972
0.36
2.00
1973
0.39
1.81
1974
0.52
2.20
1975
0.57
2.21
1976
0.59
2.17
1977
0.62
2.12
1978
0.63
2.00
1979
0.86
2.46
1980
1.25
3.13
1981
1.38
3.14
1982
1.26
2.70
1983
1.20
2.51
1984
1.18
2.35
1985
1.17
2.25
1986
0.89
1.68
1987
0.91
1.66
1988
0.91
1.59
1989
0.98
1.65
1990
1.13
1.79
1991
1.10
1.68
1992
1.09
1.61
1993
1.07
1.53
1994
1.07
1.50
1995
1.11
1.51
1996
1.20
1.58
1997
1.20
1.55
1998
1.03
1.31
1999
1.14
1.41
2000
1.49
1.79
2001
1.43
1.67
2002
1.34
1.55
2003
1.56
1.76
2004
1.85
2.03
2005
2.27
2.41
2006
2.58
2.65
2007
2.81
2.81
2008*
3.61
3.44

* Data for the remaining months of 2008 are forecasted by EIA using the Short Term Energy Outlook model.
Source: Energy Information Administration
Return to 2008 Facts of the Week