Fact #548: December 8, 2008
Number of Gasoline Stations Continues to Decline in 2007
The number of gasoline stations in the United States has been declining since 1994 when there were over 200,000 stations. From 2003 to 2006, those declines leveled off and in 2005, the number of stations increased slightly. However, since 2005, the number of stations has begun to decline again with a loss of more than 3,000 stations from 2006 to 2007.
Gasoline Stations in the United States, 1994-2007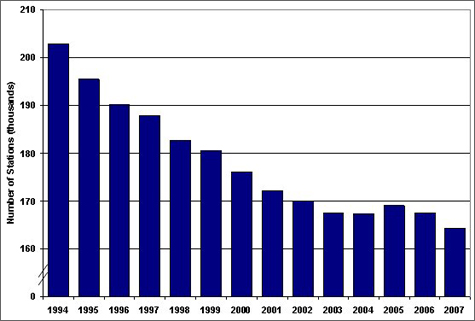 Supporting Information
Gasoline Stations in the United States, 1994-2007
Year
Number of Gas Stations
1994
202,878
1995
195,455
1996
190,246
1997
187,892
1998
182,596
1999
180,567
2000
175,941
2001
172,169
2002
170,018
2003
167,571
2004
167,346
2005
168,987
2006
167,476
2007
164,292

Source: National Petroleum News Survey