Fact #550: December 22, 2008
Clean Cities Coalitions
As a result of the Energy Policy Act of 1992, the Clean Cities Program was started by the Department of Energy to contribute to the energy, environmental, and economic security of the United States by supporting local decisions to reduce our dependence on imported petroleum. Government agencies and private companies voluntarily come together in a coalition which provides tools and resources for community-centered programs to reduce consumption of petroleum-based fuels. There are currently 86 designated Clean Cities Coalitions.
Clean Cities Coalition Locations as of October 2008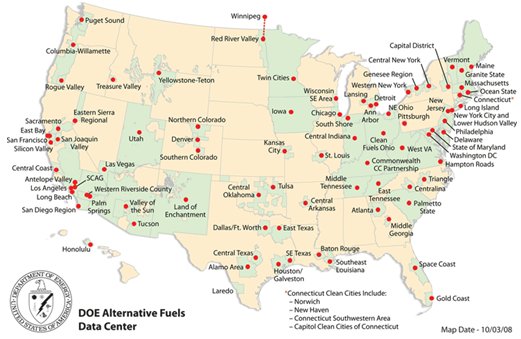 Supporting Information
Clean Cities Coalitions by Designation Date
Coalition Name
Designation Date
Atlanta
September 8th, 1993
Denver
September 13th, 1993
Philadelphia
September 22nd, 1993
State of Delaware
October 12th, 1993
Las Vegas
October 18th, 1993
Washington DC Metropolitan
October 21st, 1993
Massachusetts Clean Cities
March 18th, 1994
Central Texas (Austin)
April 18th, 1994
Gold Coast (Miami/Fort Lauderdale/West Palm Beach)
May 5th, 1994
Chicago
May 13th, 1994
Land of Enchantment
June 1st, 1994
Wisconsin Southeast Area
June 29th, 1994
Southern Colorado Clean Cities Coalition
July 13th, 1994
Long Beach
August 31st, 1994
Antelope Valley
September 22nd, 1994
Utah Clean Cities
October 3rd, 1994
State of Maryland
October 7th, 1994
Commonwealth Clean Cities Partnership
October 18th, 1994
Rogue Valley
October 18th, 1994
State of West Virginia
October 18th, 1994
Silicon Valley (San Jose)
October 21st, 1994
San Francisco
October 21st, 1994
Sacramento
October 21st, 1994
San Joaquin Valley
October 21st, 1994
East Bay (Oakland)
October 21st, 1994
Clean Communities of Western New York (Buffalo)
November 4th, 1994
Columbia-Willamette (formerly Portland)
November 10th, 1994
St. Louis
November 18th, 1994
Connecticut Southwestern Area
November 21st, 1994
Norwich
November 22nd, 1994
Central New York (Syracuse)
June 15th, 1995
Dallas/Ft. Worth
July 25th, 1995
Honolulu
August 29th, 1995
New Haven
October 5th, 1995
Central Arkansas
October 25th, 1995
Pittsburgh
December 5th, 1995
Southern California Association of Governments (SCAG)
March 1st, 1996
Los Angeles
March 22nd, 1996
Palm Springs
April 22nd, 1996
Northern Colorado
May 21st, 1996
Central Oklahoma (Oklahoma City)
May 29th, 1996
Virginia Clean Cities
October 4th, 1996
Greater Long Island
October 18th, 1996
San Diego Regional Clean Cities Coalition
December 12th, 1996
Detroit
December 18th, 1996
Maine Clean Communities
September 4th, 1997
Houston-Galveston
September 4th, 1997
Tulsa
September 22nd, 1997
Valley of the Sun (Phoenix)
October 8th, 1997
Western Riverside County
October 24th, 1997
New Jersey
October 30th, 1997
Genesee Region (Rochester)
May 28th, 1998
Red River Valley (Grand Forks, Winnipeg, Manitoba, Canada)
August 10th, 1998
Puget Sound (Seattle)
August 13th, 1998
Ocean State
September 14th, 1998
Kansas City Regional Coalition
November 18th, 1998
Central Indiana (Indianapolis)
March 4th, 1999
Ann Arbor
April 19th, 1999
Capital District (Albany)
April 26th, 1999
South Shore
June 15th, 1999
Capital Clean Cities of Connecticut
June 21st, 1999
Tucson
August 24th, 1999
Northeast Ohio Clean Transportation (Cleveland)
September 14th, 1999
Space Coast (Orlando)
October 1st, 1999
Alamo Area (San Antonio)
November 10th, 1999
Greater Baton Rouge Clean Cities Coalition
April 12th, 2000
Eastern Sierra Regional (Reno)
June 28th, 2000
Triangle (Raleigh, Durham, Chapel Hill)
March 19th, 2001
Twin Cities
May 31st, 2001
State of Vermont
June 25th, 2001
Clean Fuels Ohio
April 12th, 2002
Granite State
May 31st, 2002
Yellowstone Teton Clean Energy Coalition
September 18th, 2002
Middle Georgia
April 17th, 2003
New York City and Lower Hudson Valley Clean Communities
April 22nd, 2003
Greater Lansing
September 26th, 2003
Palmetto State
January 28th, 2004
East Texas
May 18th, 2004
South East Texas (Beaumont-Port Arthur)
August 24th, 2004
East Tennessee Clean Fuels Coalition
October 12th, 2004
Middle Tennessee
October 13th, 2004
Centralina Clean Fuels Coalition
October 15th, 2004
State of Iowa
October 15th, 2005
Treasure Valley
August 22nd, 2006
Central Coast
August 25th, 2006
Southeast Louisiana Clean Fuels Partnership
March 26th, 2008