Fact #551: December 29, 2008
Truck Stop Electrification Sites
Long haul truck drivers routinely idle their engines to heat or cool their cab during their rest period. (Federal laws require 10 hours of rest for every 11 hours on the road.) Truck Stop Electrification allows truckers to operate the heater, air conditioner, television, and other appliances without running the engine, which saves fuel, reduces air pollution, and reduces engine wear. There are single system electrification systems which are owned and operated by the truck stop, and shore power systems which require both onboard and off-board equipment. Currently there are 136 Truck Stop Electrification sites in 34 States – nearly triple the number available in 2006.
Truck Stop Electrification Sites, 2006-2008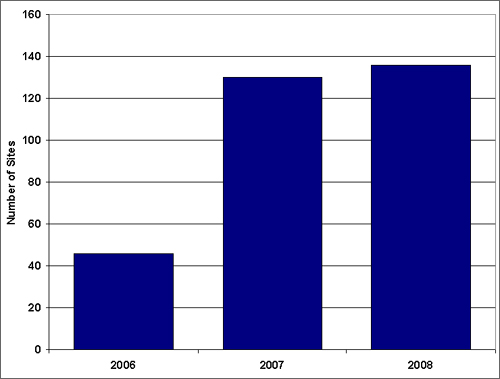 Supporting Information
Truck Stop Electrification Sites
State
2006
2007
2008
Alabama
1
2
2
Arkansas
2
6
6
Arizona
–
4
4
California
10
13
13
Colorado
–
1
1
Florida
–
2
2
Georgia
4
5
5
Illinois
–
7
7
Indiana
–
4
4
Kentucky
–
1
1
Louisiana
1
2
3
Maryland
1
3
3
Michigan
–
1
2
Minnesota
–
1
1
Missouri
–
3
3
Mississippi
1
1
1
North Carolina
1
2
2
North Dakota
–
1
1
Nebraska
–
1
1
New Jersey
1
3
3
New Mexico
–
5
5
Nevada
–
1
1
New York
2
3
1
Ohio
–
10
11
Oklahoma
1
3
3
Oregon
–
5
5
Pennsylvania
3
9
11
South Carolina
1
1
1
Tennessee
4
5
5
Texas
12
19
22
Utah
–
1
1
Virginia
1
2
2
Washington
–
2
2
West Virginia
–
1
1
Total
46
130
136

Source: Alternative Fuels Data Center