Fact #666: March 14, 2011
Survey says Electric Vehicle Prices are Key
November/December 2010 surveys of 1,716 drivers and 123 automobile industry executives indicate that both groups believe a low electric vehicle price would motivate consumers to switch from a conventional vehicle to an electric-only vehicle (EV). More than half of the drivers surveyed also indicated that an extended vehicle range, the convenience of usage, and the availability of charging stations would motivate them to purchase an EV. The automobile industry executives however, placed higher emphasis on the price of oil and government incentives, with more than 70% of the executives naming those as important to consumers. Sustainability concerns and traffic congestion were chosen as a motivating factor more often by consumers than by the executives.
Responses to Survey on Electric Vehicles, November/December 2010
Consumers were asked: What would motivate you to switch from using a vehicle that currently runs on gasoline, diesel or hybrid to an electric-only vehicle?
Auto industry executives were shown the same question and asked to rate the importance consumers place on each choice.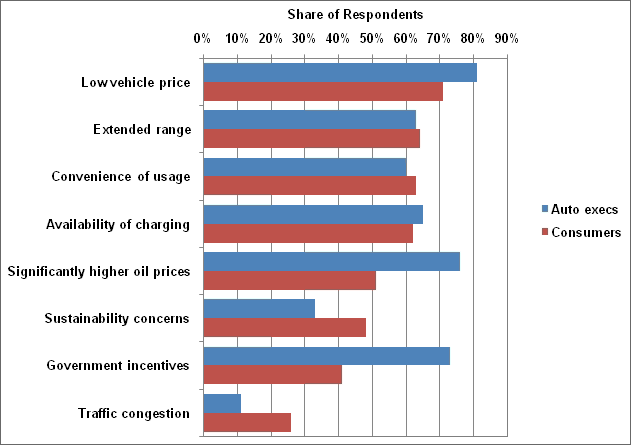 Supporting Information