Fact #689: August 22, 2011
Energy Use by Sector and Source
The transportation sector consumed 28% of U.S. energy in 2010, nearly all of it (93.5%) in petroleum use. The industrial sector used about 40% petroleum and 40% natural gas. The electric utility sector used little petroleum, but was dependent on coal for nearly half of the energy it consumed. Renewables, such as biofuels for transportation, were being used in every sector in 2010.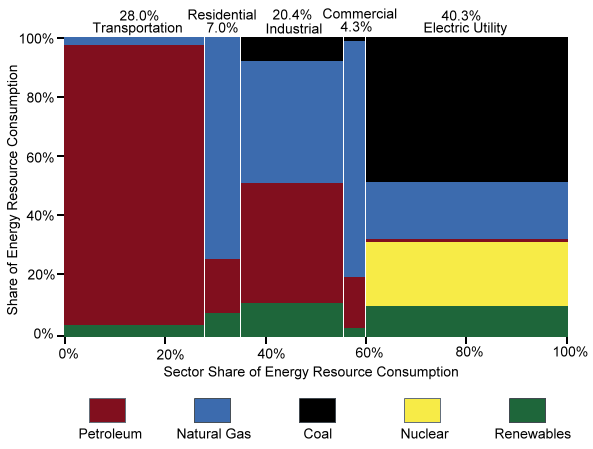 Supporting Information
Energy Consumption by Sector and Source: 2010
 
Transportation
Residential
Commerical
Industrial
Electric Utility
 
Total Energy Share
 
28.0%
7.0%
4.3%
20.4%
40.4%
 
Energy Share by Source
Coal
0.0%
0.1%
1.4%
8.1%
48.3%
Natural Gas
2.5%
74.0%
78.5%
40.6%
19.0%
Petroleum
93.5%
17.8%
17.1%
40.1%
1.0%
Renewables
4.0%
8.1%
3.0%
11.3%
10.2%
Nuclear
0.0%
0.0%
0.0%
0.0%
21.3%
Total
100.0%
100.0%
100.0%
100.0%
100.0%
 
Primary Energy Use in Quadrillion Btu
 
27.4
6.8
4.2
20.0
39.6

Source:
Source: U.S. Department of Energy, 2010 Vehicle Technologies Market Report. [Original source: Energy Information Administration, Monthly Energy Review.]