Fact #690: August 29, 2011
Characteristics of New Light Vehicles over Time
From model year (MY) 1980 to 2010, there have been significant gains made in automotive technology. For new light vehicles, horsepower has more than doubled and "0-to-60" times have dropped from 14.3 to 9.5 seconds. The average weight grew to a high of 4,111 pounds in 2004 and has dropped slightly since then (4,009 pounds in 2010). The average fuel economy of new light vehicles has gradually fluctuated higher and lower over the years, with fuel economy in 2010 being just above the 1987 average.
Characteristics of New Light Vehicles Sold, MY 1980-2010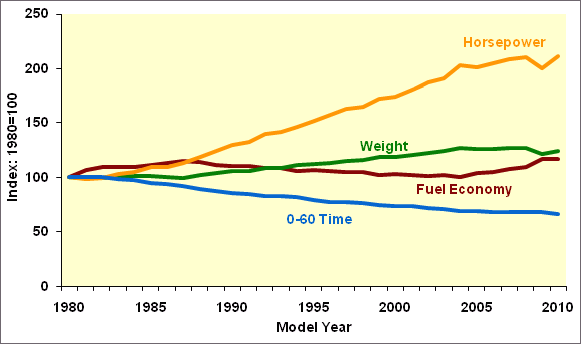 Supporting Information
Characteristics of New Light Vehicles Sold, MY 1980-2010
Model Year
MPG
Weight
Horsepower
0-60 Time
1980
19.2
3,228
104
14.3
1981
20.5
3,202
102
14.4
1982
21.1
3,202
103
14.4
1983
21.0
3,257
107
14.1
1984
21.0
3,262
109
14.0
1985
21.3
3,271
114
13.5
1986
21.8
3,238
114
13.4
1987
22.0
3,221
118
13.1
1988
21.9
3,283
123
12.8
1989
21.4
3,351
129
12.5
1990
21.2
3,426
135
12.2
1991
21.2
3,410
138
12.1
1992
20.8
3,512
145
11.8
1993
20.9
3,519
147
11.8
1994
20.4
3,603
152
11.7
1995
20.5
3,613
158
11.3
1996
20.4
3,659
164
11.1
1997
20.1
3,727
169
11.0
1998
20.1
3,744
171
10.9
1999
19.7
3,835
179
10.7
2000
19.8
3,821
181
10.6
2001
19.6
3,879
187
10.5
2002
19.4
3,951
195
10.3
2003
19.6
3,999
199
10.2
2004
19.3
4,111
211
9.9
2005
19.9
4,059
209
9.9
2006
20.1
4,067
213
9.8
2007
20.6
4,093
217
9.7
2008
21.0
4,085
219
9.7
2009
22.4
3,917
208
9.7
2010
22.5
4,009
220
9.5

Source: U.S. Department of Energy, 2010 Vehicle Technologies Market Report.
[Original source: U.S. Environmental Protection Agency, Light-Duty Automotive Technology, Carbon Dioxide Emissions, and Fuel Economy Trends: 1975 Through 2010]